Article
Living in a state of multiple crises: health, nature, climate, economy, or simply systemic unsustainability?
Article
Published 15 Jun 2021
Last modified 23 Aug 2021
Photo: ©
Nunzio Santisi, Picture2050/EEA
From policy corridors to academic platforms, the world has been talking about global crises: a health crisis, an economic and financial crisis, a climate crisis and a nature crisis. Ultimately, they are all symptoms of the same problem: our unsustainable production and consumption. The COVID-19 shock has only revealed the systemic frailty of our global economy and society with all their inequalities.
Achieving true and lasting sustainability will require  addressing social inequalities  as well. This raises the question of  governance : how do we ensure access to resources and a clean environment for all?

Hans Bruyninckx, EEA Executive Director
Since 1950, the global population has more than tripled to almost 8 billion and economic output grew by 12-fold. This massive growth was facilitated by a tremendous increase in our use of natural resources such as land, water, timber and of other materials including minerals and energy resources. This Great Acceleration lifted hundreds of millions out of poverty but has impacted ecosystems negatively and caused climate change. Globally, 75% of the terrestrial environment and 40% of the marine environment are severely altered. Continued combustion of fossil fuels, changes to land use and deforestation release greenhouse gases to the atmosphere, causing climate change.
Today, globalisation, especially through increased digitalisation, connects almost every part of the planet through a series of well-established trade routes, ensuring delivery of raw materials, parts or finished products for global consumers of a global market. The demand for material resources is projected to double by 2060 and we are already consuming what three Earths can provide. Moreover, we are currently unable to prevent large quantities of waste from ending up in the environment and annual waste generation is expected to increase by 70% by 2050. Carbon neutrality goals or ICT equipment may exert additional pressure on already strained mineral and rare earth supplies. 
COVID-19: a short break from global markets?
COVID-19 and lockdown measures have affected consumption and production patterns to some extent. Certain sectors like tourism or travel were directly impacted, and many supply chains were also affected. Closure of production facilities in China and other exporting countries during the initial months of lockdown caused delays in deliveries of some products, just as the shipping accident blocking the Suez Canal for days has created shortages and delays in European markets. COVID-19 did not only cause disruption in the global supply chains only; it also lowered the demand.
The pandemic revealed how closely connected and inter-dependent our economy and our societies are. Be it a health or economic one, a crisis can easily spread and its impacts can be felt across the world, unless coordinated and decisive action is taken together at its onset.
COVID has also created increased global demand and a growing market for personal protective equipment like face masks and gloves. Health concerns have understandably superseded environmental concerns over single-use plastics. At the same time, the economic slowdown reduced the production of plastic packaging in the EU. These changes may affect the EU's progress towards its targets set before the pandemic. An EEA briefing, to be published this month, looks into the impacts of COVID-19 on single-use plastic in Europe's environment.
In its second year, COVID-19 represents different crises depending on the country. Countries with high vaccination rates are starting to lift the restrictions one by one, getting closer to a sense of normalcy. With already over 70 doses per 100 people administered, EU Member States are focusing on the economic crisis and recovery plans. Economic activities and consumption are picking up pace again. At the same time, the health crisis is still raging in countries with very limited access to vaccines, highlighting global inequalities in a closely connected world.
The pandemic has also triggered some reflection and action on these inequalities, urging higher-income countries or those less affected by the pandemic to help others with medical supplies, respirators and now vaccines. Last month, EU leaders pledged to donate 100 million doses of corona vaccines to countries in need. This was followed by a pledge by G7 leaders to donate 1 billion doses to lower-income countries in 2021. Unfortunately these numbers still fall significantly short of the 10 billion doses required according to the WHO.
Uneven distribution of resources, impacts and benefits
The 2019 Global Resources Outlook report by the International Resource Panel confirms that the use of natural resources and the related benefits and environmental impacts are unevenly distributed across countries and regions. High-income countries, including EU Member States, continue to consume significantly more materials and cause significantly more environmental harm than the group of low-income countries.
The new Circular Economy Action Plan from March 2020 is the cornerstone of the European Union's efforts on resource use. The plan includes a wide range of actions addressing product design, circular economy processes, more sustainable consumption and waste prevention. It requires and specifies action in key product value chains, including electronics and ICT, batteries, packaging, plastics, textiles, buildings and construction, and food, water and nutrients. As such, it is one of the main components of the European Green Deal (the European Union's overarching response to environmental, climate and socio-economic challenges) and is of high relevance to give direction to the investments for both post-COVID recovery and a sustainable transition of our economic model.
Social dimension and governance questions are the key to building back better
At the EEA, we have closely aligned our work to monitor the environment, progress towards circularity and identify options for policies and circular business models around these key product value chains. We will continue to support European policymakers around the key product value chains and contribute to global resource assessments through the International Resource Panel. As the economy starts recovering, will we succeed in building back better?
Achieving sustainable resource use in Europe and globally requires fundamental changes in our production and consumption systems. The real challenge is far from making production processes more efficient. Achieving true and lasting sustainability will require addressing social inequalities as well. This raises the question of governance: how do we ensure access to resources and a clean environment for all? The EEA will continue to bring in the social dimension and the governance question in relevant assessments and policy discussions.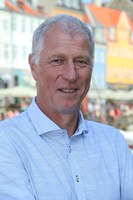 Hans Bruyninckx
EEA Executive Director
Editorial published in the EEA Newsletter, June 2021
Permalinks
Permalink to this version

Permalink to latest version
Geographic coverage
Topics