Resource efficiency and waste
An average of 5 tonnes of waste from all sources was generated per person in the EU in 2016
We need to fundamentally transform the way we produce, consume and live in order to preserve nature's ability to provide for us. Let's produce more with fewer inputs and see waste as a resource.
Country profiles on resource efficiency and waste
This map contains information on countries' performance and policies around municipal waste management, waste prevention, and resource efficiency and circular economy. Select one of the EEA member or cooperating countries in order to view its country profile for each of these policy areas.
Data sources:
Data provenance info is missing.
Introducing more robust monitoring and targets to spur Europe's move to a circular economy would help improve resource efficiency, according to a European Environment Agency (EEA) report published today.
Construction and demolition waste makes up just over one third of total waste generation in the EU. Despite relatively high recovery rates of used materials, Europe's construction sector will need to be even more ambitious in its waste management practices if it is to fully embrace Europe's circular economy. According to a European Environment Agency (EEA) briefing published today, circular approaches are key to increasing the quality and quantity of recycling and reuse of construction and demolition materials.
Consumption of clothing, footwear and household textiles in the European Union (EU) uses annually about 1.3 tonnes of raw materials and more than 100 cubic metres of water per person, according to a European Environment Agency briefing, published today. A wide-scale change towards circular economy in textiles production and consumption is needed to reduce its greenhouse gas emissions, resource use and pressures on nature.
Published
: 16 Jan 2020
Construction and demolition waste (C&DW) comprises the largest waste stream in the EU, with relatively stable amounts produced over time and high recovery rates. Although this may suggest that the construction sector is highly circular, scrutiny of waste management practices reveals that C&DW recovery is largely based on backfilling operations and low-grade recovery, such as using recycled aggregates in road sub-bases. This briefing examines how circular economy-inspired actions can help achieve waste policy objectives, namely waste prevention and increase both the quantity and the quality of recycling for C&DW while reducing hazardous materials in the waste.
Browse catalogue
Filtered by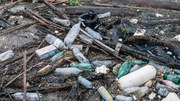 Plastic waste remains a huge and growing problem. But what is the European Union doing to address the issue? Ioannis Bakas, the EEA's waste prevention expert gives a brief overview of the EEA's report on preventing plastic waste in Europe, which was published earlier this month.