Resource efficiency and waste
An average of 5.2 tonnes of waste from all sources was generated per person in the EU-27 in 2018
We need to fundamentally transform the way we produce, consume and live in order to preserve nature's ability to provide for us. Let's produce more with fewer inputs and see waste as a resource.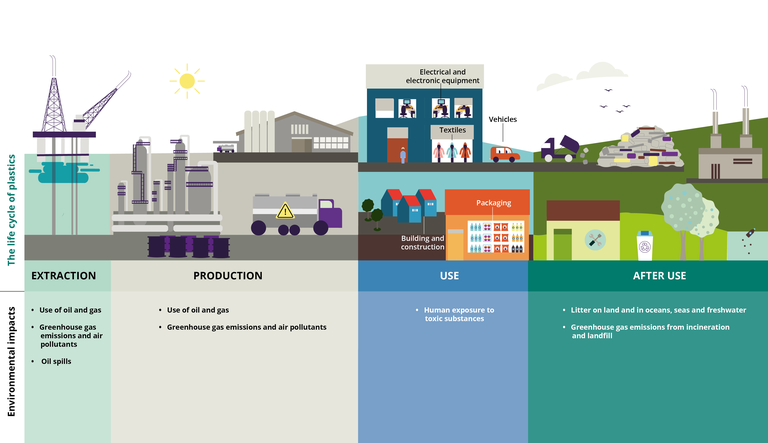 While awareness, concern and action over how we dispose of plastics in the marine environment and elsewhere have grown enormously in recent years, there are many other and less known impacts of plastics, including its contribution to climate change and new challenges related to the COVID-19 pandemic, according to the EEA report 'Plastics, the circular economy and Europe′s environment — A priority for action'.
Country profiles on resource efficiency and waste
This map contains information on countries' performance and policies around municipal waste management, waste prevention, and resource efficiency and circular economy. Select one of the EEA member or cooperating countries in order to view its country profile for each of these policy areas.
Data sources:
Data provenance info is missing.
Digital technologies like robotics, cloud computing and artificial intelligence will help improve the sustainability of Europe's waste management systems. According to a European Environment Agency (EEA) briefing released today, increased use of these technologies can help deliver more effective waste management across Europe, improving logistics, recycling rates and enable better purchasing and sorting decisions by consumers.
The ever-increasing amount of plastic, its impact on biodiversity and contribution to climate change, and how to deal with it in a circular economy perspective have been on the European Union's policy agenda for years. The COVID-19 pandemic has only increased the attention for plastic waste with images of masks in our seas, and large amounts of single-use protective gear. In the circular plastics economy report, published today, the European Environment Agency (EEA) analyses the need and potential for a shift to a circular and sustainable approach to our use of plastics.
Biodegradable, compostable and bio-based plastic products like shopping bags, packaging or drinking cups are being increasingly promoted as greener solution than traditional plastic products for consumers. But how environmentally-friendly are they? A European Environment Agency (EEA) briefing released today says clearer labelling and better public awareness will improve the correct disposal of these plastics so that they don't end up doing more harm than good.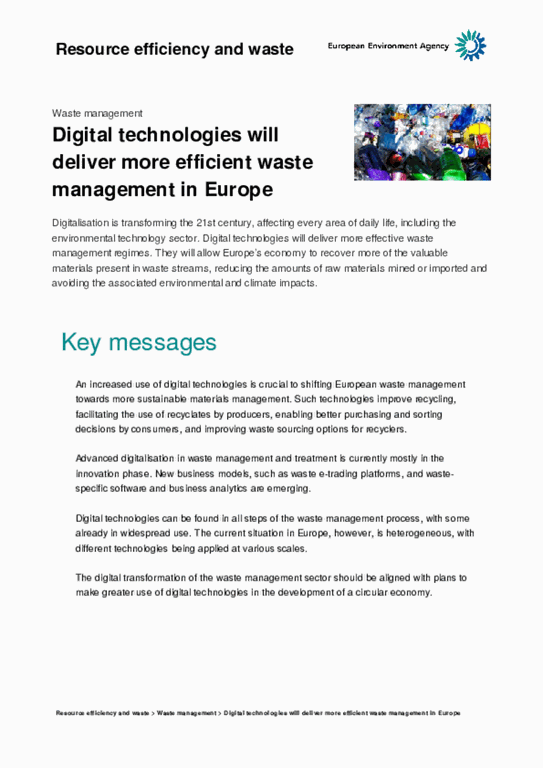 Published
: 03 Feb 2021
Digitalisation is transforming the 21st century, affecting every area of daily life, including the environmental technology sector. Digital technologies will deliver more effective waste management regimes. They will allow Europe's economy to recover more of the valuable materials present in waste streams, reducing the amounts of raw materials mined or imported and avoiding the associated environmental and climate impacts.