EEA 2018 water assessment
Page
Last modified 23 Nov 2020
The report "European waters – assessment of status and pressures 2018" is based on Water Framework Directive (WFD), River Basin Management Plans (RBMPs) information reported to the Commission by Member States and stored at the EEA in the Water Information System for Europe (WISE)
The report "European waters – assessment of status and pressures 2018"  aims to present results on:
the status of EU waters, based on the second River Basin Management Plans (RBMPs);
the pressures that are causing less than good status;
the progress that was achieved during the first RBMP cycle (2010-2015). 
The Water Framework Directive (WFD), now 18 years old, established a framework for the assessment, management, protection and improvement of the quality of water resources across the EU. This year, the European Commission will publish its report on the assessment of the second RBMPs and will start the process of evaluating the WFD. To accompany and inform this process, the EEA has produced this report on the state of Europe's water.
Key messages of the report are:
Of the different water bodies recognised by the Water Framework Directive (WFD) across Europe, groundwaters generally have the best status. Good chemical status has been achieved for 74% of the groundwater area, while 89% of the area achieved good quantitative status.
Around 40% of surface waters (rivers, lakes and transitional and coastal waters) are in good ecological status or potential, and only 38% are in good chemical status.
In most Member States, a few priority substances account for poor chemical status, the most common being mercury. If mercury and other ubiquitous priority substances were omitted, only 3% of surface water bodies would fail to achieve good chemical status. Improvements for individual substances show that Member States are making progress in tackling the sources of contamination.
Overall, the second RBMPs show limited change in status, as most water bodies have the same status in both cycles. The proportion of water bodies with unknown status has decreased and confidence in status assessment has grown. Improvements are usually visible at the level of individual quality elements or pollutants but often do not translate into improved status overall.
The main significant pressures on surface water bodies are hydromorphological pressures (40%), diffuse sources (38%), particularly from agriculture, and atmospheric deposition (38%), particularly of mercury, followed by point sources (18%) and water abstraction (7%).
Member States have made marked efforts to improve water quality or reduce pressure on hydromorphology. Some of the measures have had an immediate effect; others will result in improvements in the longer term.
It can be expected that, by the time the third RBMPs are drafted (2019-2021), some of the several thousand individual measures undertaken in the first and second RBMPs should have had a positive effect in terms of achieving good status.
WISE-Freshwater WFD visualisation tool 
The report presents only the key results, while more detailed WFD results are presented in the WISE-Freshwater WFD visualisation tool. Results are presented as interactive tables, graphs and maps ("Dashboards"), and as overviews at EU, Member State and river basin districts (RBDs) levels.
More than 150 "dashboards" (Web-visualisations), presenting status and pressure information, are now available online. The dashboards present the data Member States have reported via the first (in 2010-2012) and the second River Basin Management Plans (RBMPs, in 2012-2016).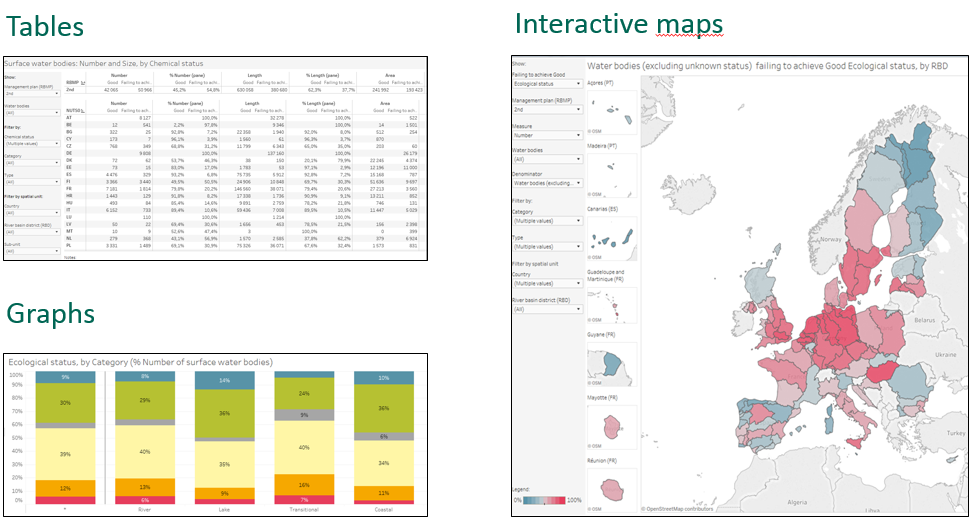 Caution is advised when comparing Member States and when comparing the first and second RBMPs, as the results are affected by the methods Member States have used to collect data and often cannot be compared directly
.
The more than 150 dashboards are now available online and can be found via the links below:
The Water Framework Directive 'water environment' includes rivers, lakes, transitional waters, groundwater and coastal waters out to 1 nautical mile (12 nautical miles for chemical status, i.e. for territorial waters). These waters are divided into units called water bodies. Member States have in the river basin districts delineated water bodies and reported different data to characterize water bodies such as length or area, category (groundwater, rivers, lakes, transitional, coastal waters), national type and information if a surface water body is designated as heavily modified or artificial.
Ecological status is an assessment of the quality of the structure and functioning of surface water ecosystems. It shows the influence of pressures (e.g. pollution and habitat degradation) on the identified quality elements. Ecological status is determined for each of the surface water bodies of rivers, lakes, transitional waters and coastal waters, based on biological quality elements and supported by physico-chemical and hydromorphological quality elements.
The overall ecological status classification for a water body is determined, according to the 'one out, all out' principle, by the element with the worst status out of all the biological and supporting quality elements.
For surface waters, good chemical status means that no concentrations of priority substances exceed the relevant EQS established in the Environmental Quality Standards Directive 2008/105/EC (as amended by the Priority Substances Directive 2013/39/EU). EQS aim to protect the most sensitive species from direct toxicity, including predators and humans via secondary poisoning. A smaller group of priority hazardous substances were identified in the Priority Substances Directive as uPBT (ubiquitous (present, appearing or found everywhere), persistent, bioaccumulative and toxic). The uPBTs are mercury, brominated diphenyl ethers (pBDE), tributyltin and certain polyaromatic hydrocarbons (PAHs).
The WFD requires Member States to designate separate groundwater bodies and ensure that each one achieves 'good chemical and quantitative status'. To meet the aim of good chemical status, hazardous substances should be prevented from entering groundwater, and the entry of all other pollutants (e.g. nitrates) should be limited. Good quantitative status can be achieved by ensuring that the available groundwater resource is not reduced by the long-term annual average rate of abstraction. In addition, impacts on surface water linked with groundwater or groundwater-dependent terrestrial ecosystems should be avoided, as should saline intrusions.
The WFD requires the identification of significant pressures from point sources of pollution, diffuse sources of pollution, modifications of flow regimes through abstractions or regulation and morphological alterations, as well as any other pressures. 'Significant' means that the pressure contributes to an impact that may result in failing to meet the WFD objectives of not having at least good status. In some cases, the pressure from several drivers, e.g. water abstraction from agriculture and households, may in combination be significant.
Ecological status is determined for rivers, lakes, and transitional and coastal waters based on biological quality elements (phytoplankton, macrophytes, phytobenthos, benthic invertebrate fauna and fish) and supporting physico-chemical (nutrients, oxygen condition, temperature, transparency, salinity and river basin specific pollutants (RBSPs) and hydromorphological quality elements. The WFD specifies which elements are to be assessed for each water category and requires that biological and supporting quality elements achieve at least good status. The dashboards provide overview of the different results related to ecological status of quality elements.
Permalinks
Permalink to this version

Permalink to latest version
Geographic coverage

Topics
Tags