European waters — overview
Page
Last modified 04 Oct 2017
Several million kilometres of flowing waters and more than a million lakes cover the European continent. Each body of water has its own characteristics, such as clarity and biodiversity level, and faces its own specific environmental problems, such as eutrophication.


What affects the health of Europe's waters?
The environmental status of a water body is greatly influenced by the characteristics of its catchment area (Figure 1). The climatic conditions, for example rain, bedrock geology and soil type, all influence the water flow. In addition, soil type impacts on the mineral content of the water. Similarly, human activity affects surface water and groundwater through afforestation, urbanisation, land drainage, pollutant discharge and flow regulation (dams and channelisation). Lakes, reservoirs and wetlands also impact on a river system by weakening the natural fluctuation in discharge and serve as settling tanks for sediment transported by the rivers.  
Catchment activities affecting hydrology and water flow.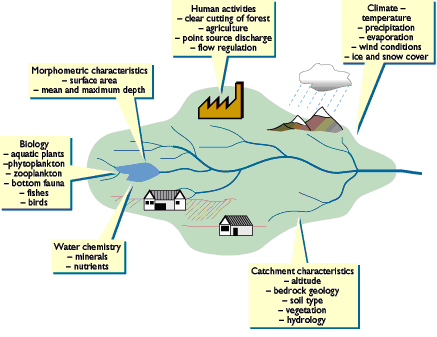 The following pages describe:
Permalinks
Permalink to this version

Permalink to latest version
Geographic coverage