Water and marine environment
Subtopics
Securing the sustainable use of water remains a key challenge
Clean water is an essential resource for human health, agriculture, energy production, transport and nature. But it is also under multiple pressures. Currently, only 40% of Europe's surface water bodies achieve good ecological status. In addition, even though EU countries have managed to reduce selected pressures, the status of our marine ecosystems remains critical, both in terms of species and habitats. More efforts are needed to achieve Europe's freshwater and marine-related environmental targets.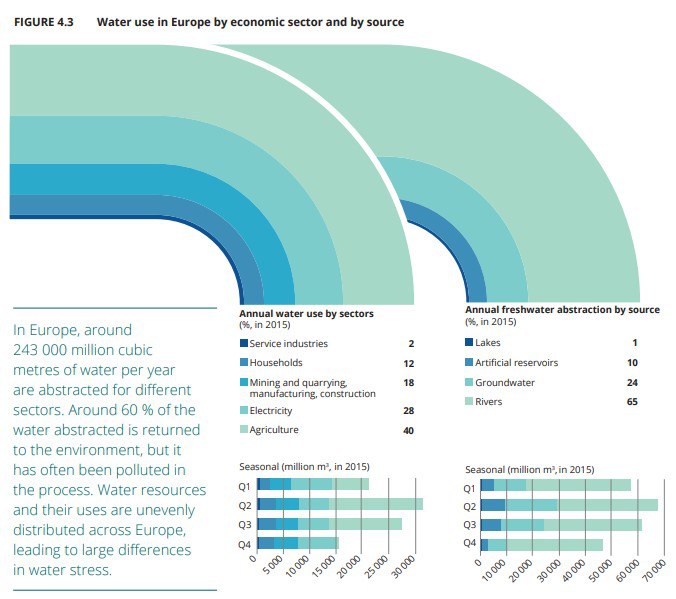 To continue enjoying the benefits of clean water and healthy oceans and rivers, we need to fundamentally change the way we use and treat water.
The EEA developed a water exploitation index showing that European annual water consumption in various economic activities. 
State of bathing waters
Bathing water monitoring by country. Please note: for the scales 1:5.000.001 and less detailed, data are aggregated by country. In such case, stacked bars show percentage of bathing water quality for coastal and inland waters together. Number of bathing waters within certain category is seen in pop up window which can be turned on with a click on one of the countries. For the scale range 1:5 000.000 to 1:700,001, individual bathing water sites (points) are visible instead of classified stacked charts and are coloured according to the classification of bathing water quality. Symbol size depends on the map scale (in more detailed map scales symbols are bigger). For the scales 1:700,000 and more detailed, symbol of bather in a square appears instead of points. Symbol size depends on the map scale.
Data sources:
The preservation and restoration of Europe's largely degraded floodplains, must be better prioritised according to a European Environment Agency (EEA) report published today. The report says floodplains have a key role to play in improving biodiversity, water, and climate change mitigation and adaptation.
People and the environment are exposed to a wide variety of extremely persistent chemicals known as PFAS, many of which are known to be toxic. A briefing by the European Environment Agency, published today, presents an overview of these chemicals, which continue to accumulate in people and the environment.
More investment is needed to make urban waste water treatment plants fit to meet the difficult challenges posed by the impacts of climate change, as well as the presence of antibiotics and other micro-pollutants in waste water, according to a European Environment Agency (EEA) briefing published today.
Published
: 16 Dec 2019
It is currently not possible to perform in-depth environmental and health risk assessments of all chemical substances in use in Europe because of the great variety of chemicals and their diverse uses. New and legacy chemicals continue to be released into Europe's environment, adding to the total chemical burden on Europe's citizens and ecosystems. Early identification of emerging risks is one of the activities of the European Environment Agency (EEA). This briefing summarises the known and potential risks to human health and the environment in Europe posed by a group of very persistent chemicals, the per- and polyfluorinated alkyl substances (PFAS).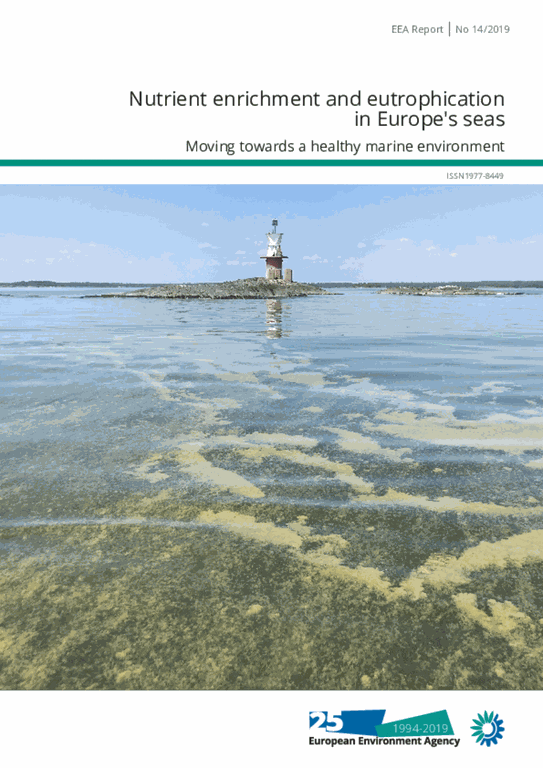 Published
: 11 Dec 2019
This assessment explores whether Europe has been able to reverse eutrophication trends in its regional seas. The assessment is based on publicly available monitoring data, primarily collected in the context of the Water Framework Directive, the Marine Strategy Framework Directive and Regional Sea Conventions.