Water and marine environment
Subtopics
Securing the sustainable use of water remains a key challenge
Clean water is an essential resource for human health, agriculture, energy production, transport and nature. But it is also under multiple pressures. Currently, only 40% of Europe's surface water bodies achieve good ecological status. In addition, even though EU countries have managed to reduce selected pressures, the status of our marine ecosystems remains critical, both in terms of species and habitats. More efforts are needed to achieve Europe's freshwater and marine-related environmental targets.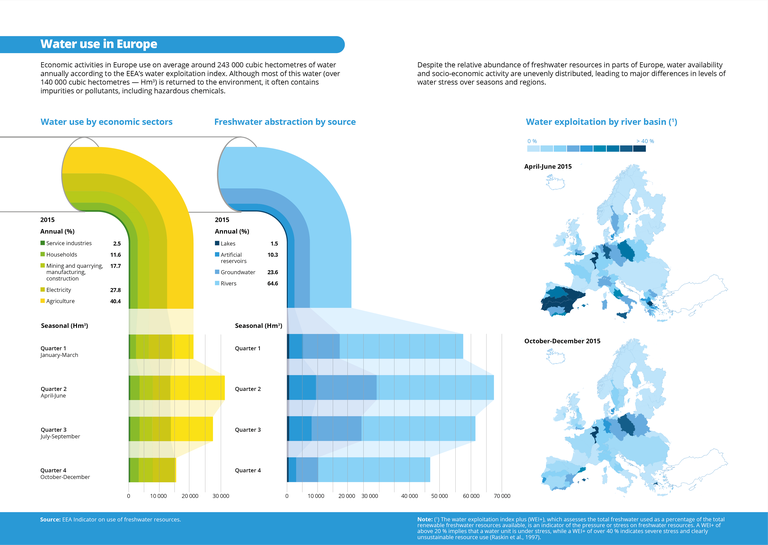 To continue enjoying the benefits of clean water and healthy oceans and rivers, we need to fundamentally change the way we use and treat water.
The EEA developed a water exploitation index showing that European annual water consumption in various activity sectors.
State of bathing waters
Note:
Bathing water monitoring by country. Please note: for the scales 1:5.000.001 and less detailed, data are aggregated by country. In such case, stacked bars show percentage of bathing water quality for coastal and inland waters together. Number of bathing waters within certain category is seen in pop up window which can be turned on with a click on one of the countries. For the scale range 1:5 000.000 to 1:700,001, individual bathing water sites (points) are visible instead of classified stacked charts and are coloured according to the classification of bathing water quality. Symbol size depends on the map scale (in more detailed map scales symbols are bigger). For the scales 1:700,000 and more detailed, symbol of bather in a square appears instead of points. Symbol size depends on the map scale.
Data sources:
More investment is needed to make urban waste water treatment plants fit to meet the difficult challenges posed by the impacts of climate change, as well as the presence of antibiotics and other micro-pollutants in waste water, according to a European Environment Agency (EEA) briefing published today.
Just over 85% of bathing water sites across Europe monitored last year met the European Union's highest 'excellent' and most stringent quality standards for water cleanliness, according to the latest annual European bathing water quality report. The results published today give a good indication of where the best quality bathing waters are likely to be found this summer.
There is a shared vision to achieve clean, non toxic seas but their contamination with synthetic substances as well as heavy metals continues to be a large-scale problem in Europe. According to a new European Environment Agency (EEA) report, published today, between 75 and 96 % of the assessed area of Europe's regional seas have a contamination problem.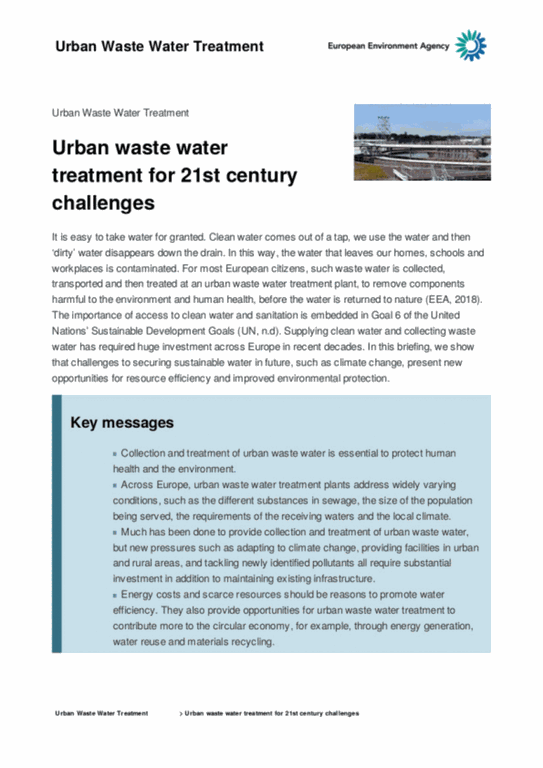 Published
: 09 Oct 2019
It is easy to take water for granted. Clean water comes out of a tap, we use the water and then 'dirty' water disappears down the drain. In this way, the water that leaves our homes, schools and workplaces is contaminated. For most European citizens, such waste water is collected, transported and then treated at an urban waste water treatment plant, to remove components harmful to the environment and human health, before the water is returned to nature (EEA, 2018). The importance of access to clean water and sanitation is embedded in Goal 6 of the United Nations' Sustainable Development Goals (UN, n.d). Supplying clean water and collecting waste water has required huge investment across Europe in recent decades. In this briefing, we show that challenges to securing sustainable water in future, such as climate change, present new opportunities for resource efficiency and improved environmental protection.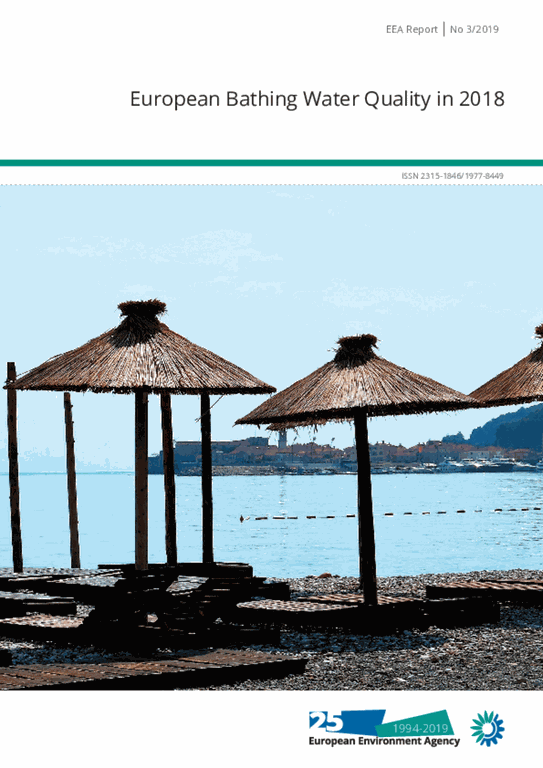 Published
: 06 Jun 2019
The report assesses bathing water quality in 2018, indicating where the quality of bathing water is expected to be good in 2019. The report was compiled using information from more than 21 000 bathing waters in the 28 EU Member States. It also covers bathing waters in Albania and Switzerland. The report is a joint production of the European Environment Agency (EEA) and the European Commission.