Water assessments for 2012 - European year of water
European water resources: current status and future challenges
2012 was the European year of water. A series of policy reviews, namely the first review of the implementation of the Water Framework Directive, the review of the water scarcity and drought policy and the review of the climate change adaptation and vulnerability policy with respect to water, led to the publication of the Blueprint to Safeguard Europe's Water Resources by the Commission in November 2012.
To support this policy process, the European Environment Agency presented throughout the year 2012 a series of reports to assess the state of Europe's waters and future challenges. These reports buildup on each other and provide different levels of details on critical aspects such as resource efficiency and water economics, the status of ecology, hydromorphology, vulnerability and biodiversity. All together these reports helped to build a comprehensive knowledge-base to assist policy-makers in preserving and improving the European waters.
The structure below shows how the information builds up on each other. The respective figures and graphs can be reviewed under each of the reports accessible via the links below the graphic.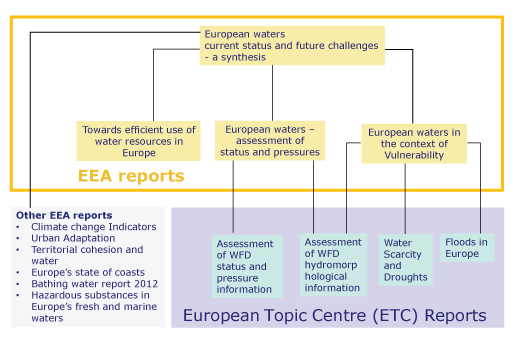 Thematic assessments (EEA reports)
Reports of the European Topic Centre (ETC reports)
The European Topic Centre on Inland, Coastal and Marine waters (ETC/ICM) and the European Topic Centre on Climate Change Impacts, Vulnerability and Adaptation (ETC/CCA) have published the following thematic assessments on the Water Framework Directive (WFD):
Other related EEA reports in 2012
Permalinks
Permalink to this version

Permalink to latest version
Geographic coverage

Topics