Noise fact sheets 2015
Page
Last modified 06 Aug 2018
This page was
archived
on
21 Apr 2017
with reason:
Other (New version themes/human/noise/sub-sections/noise-fact-sheets/noise-fact-sheets-1 was published)
These country fact sheets present a summary of key statistics about environmental noise in EEA member countries. Indicators describing exposure to transport and industrial noise sources over average day and night time periods are illustrated. The temporal base line is the 2012 reporting round according to the Environmental Noise Directive and where possible, trends in noise exposure are derived for comparable noise sources over preceding reporting rounds. These are accurate for all data reported to EEA up to 30th June 2015 and is restricted to countries from which sufficient data has been reported.
There are currently no items in this folder.
Archive
Featured article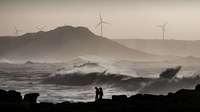 The COVID-19 pandemic provides a clear example of how fragile our societies and economies can be in the face of a major shock. Environmental degradation and climate change are expected to make such ...