Rivers and lakes in European cities
Publication
Created 20 Oct 2016
Published 25 Oct 2016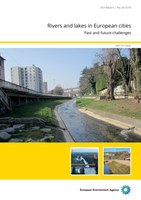 Publication
Created 20 Oct 2016
Published 25 Oct 2016
EEA Report No 26/2016
Most European cities have at least one river or lake crossing their urban landscape. Urbanisation has come at a cost to rivers and lakes, as they have been heavily degraded to enable development, carry waste, supply drinking water and facilitate transport and industry.
Download
Order information
Order a printed copy on the EU Publications website
:
978-92-9213-820-2 -821-9
In recent decades, and after a gradual improvement in water quality due to wastewater treatment and reduced industrial activities, urban rivers and lakes have become increasingly important in the planning of urban ecology, green infrastructure, green areas and climate change adaptation in European cities.
The report describes water management issues related to rivers and lakes and outline the ways in which European cities develop strategies and measures to cope with the key challenges they currently face in relation to their inland surface waters. The report uses 17 case studies on urban river and lake restoration to illustrate important aspects on urban and water management. Finally, the report draws some important lessons learned from the case studies reviewed and frames some key contextual issues that are potentially relevant to different urban settings across Europe.


Additional Files
Permalinks
Permalink to this version

Permalink to latest version
Geographic coverage

Tags