Press Release
Summer smog levels exceed critical threshold on two days in three
Press Release
Published 26 Oct 2001
Last modified 31 Aug 2016
This report provides a first evaluation of ground-level ozone pollution in Europe during spring and summer 2001. Based on data submitted to the European Commission under the EU Directive on air pollution by ozone, it details observed exceedances of the Directive's thresholds for information and warning of the population in 25 European countries
NEWS RELEASE
Copenhagen, 26 October 2001
Summer smog levels exceed critical threshold on two days in three
Concentrations of potentially harmful ground-level ozone pollution, the main component of summer smog, exceeded a critical threshold somewhere in Europe on two out of every three days this spring and summer, according to preliminary information compiled by the European Environment Agency.
The report has been submitted to EU environment ministers for their meeting on 29 October.
Ozone can cause serious health problems in humans and damage to ecosystems, agricultural crops and materials. It forms when certain air pollutants emitted by industry and transport react with sunlight. Smog levels tend to be highest during warm, sunny weather, and are generally higher in southern Europe than in the north.
A European Union directive on air pollution by ozone requires governments to inform the public whenever monitoring stations detect ozone concentrations above a critical threshold, set at 180 micrograms of ozone per cubic metre of air (180 microgramme/m3) averaged over one hour.
A preliminary evaluation of the April-August 2001 period conducted for the European Commission shows that the public information threshold was exceeded in 11 of the 15 EU Member States and in five out of 10 other European countries that supplied data at the EEA's request (see table in annex for details). An exceedance occurred in at least one of these 25 countries on 101 of the 153 days covered.
Reflecting more frequent warm and sunny weather in summer 2001, ozone concentrations were slightly higher this year than last. An in-depth analysis of data since 1994, however, shows a mixed trend of falling peak levels but rising average concentrations.
These findings suggest, on the one hand, that reductions since 1990 in emissions of the pollutants that lead to ozone formation -- principally, oxides of nitrogen (NOx), volatile organic compounds (VOCs) and carbon monoxide -- are feeding through into lower peak concentrations and so reducing the European population's short-term exposure to ozone.
On the other hand, the increasing average concentrations of ozone, for which no unambiguous explanation exists, are increasing the public s long-term exposure to the pollutant.
The average maximum ozone concentration during exceedances of the public information threshold this year was 200 Œg/m3. Exceedances lasted on average between 1.2 hours in April and 3.0 hours in June and August.
Italy recorded the highest number of days with exceedances, 80, followed by France (58) and Spain (48). Of those countries reporting exceedances, Poland had the fewest exceedance days, with two. However, these numbers do not necessarily give a fair comparison because of wide variations in the extent of different countries' ozone monitoring networks. Belgium and France both had the highest proportion of stations reporting exceedances - 73%.
The countries that recorded no exceedances of the public information threshold this year were Bulgaria, Denmark, Estonia, Finland, Ireland, Latvia, Lithuania, Norway and Sweden. For Ireland and Finland, 2001 marks the fourth consecutive year without exceedances.
Governments are also required under the EU directive to issue public warnings if ozone concentrations exceed 360 Œg/m3, averaged over one hour. During the summer period this level was reached, but not exceeded, at one monitoring station in Spain. However, the warning threshold was exceeded in March during an ozone "episode" near the southern French port of Marseilles.
Agreement was reached among the EU institutions this week, pending final approval by the European Parliament, on a new ozone directive that will include, among other things, the introduction of an "alert" threshold at 240 Œg/m3. When ozone concentrations exceed this threshold, governments will have to set in train action plans aimed at achieving an immediate reduction of ozone pollution where feasible.
Of the exceedances of the public information threshold recorded this year, around five per cent also exceeded the future alert threshold.
Notes to editors
The report was prepared by EEA's European Topic Centre on Air and Climate Change. The project was led by the National Institute for Public Health and the Environment (RIVM) in the Netherlands.
Ozone formation and destruction is dependent on emissions and concentrations of the pollutants, or "pre-cursors", that contribute to it -- mainly volatile organic compounds, oxides of nitrogen and carbon monoxide -- and on the amount and intensity of sunlight.
Human exposure to elevated ozone concentrations can give rise to adverse effects on the breathing system and decreases in lung function. Symptoms observed during smog events are coughing, chest pain, difficulty in breathing, headache and eye irritation. Exposure of ecosystems and agricultural crops to ozone results in visible injury to foliage and reductions in crop yield and seed production. Adverse effects on vegetation can be noted at relatively low ozone concentrations, which occur frequently in Europe.
The EU directive on air pollution by ozone, Directive 92/72/EEC, was adopted in 1992 and entered force in March 1994. It establishes procedures for harmonising monitoring of ozone concentrations, exchange of information, communication with and alerting of the population regarding ozone levels and optimising action to reduce ozone formation.
Information on the ozone situation in 2001 is partly based on provisional (non-validated) monitoring data and so the conclusions drawn should be regarded as preliminary. The evaluation takes the form of an EEA report to the European Commission called Air pollution by ozone in Europe in summer 2001: Overview of exceedances of EC ozone threshold values during the summer season April-August 2001. Final version 22 October 2001. The report is posted on the EEA's web site at http://reports.eea.europa.eu/topic_report_2001_13/en
In the report, a day on which a threshold is exceeded for at least one hour is counted as an exceedance.
Besides the EU Member States, the countries which provided information on their observed exceedances were Bulgaria, Czech Republic, Estonia, Hungary, Latvia, Lithuania, Norway, Poland, Slovakia and Switzerland.
A total of 1,842 monitoring stations across these 25 countries are assumed to have been operational during the summer season.
About the EEA
The European Environment Agency aims to support sustainable development and to help achieve significant and measurable improvement in Europe's environment through the provision of timely, targeted, relevant and reliable information to policy making agents and the public. Established by the European Union (EU) in 1990 by Council Regulation 1210/90 (subsequently amended by Council Regulation 933/1999), the Agency is the hub of the European environment information and observation network (EIONET), a network of some 600 environmental bodies and institutes across Europe.
Located in Copenhagen and operational since 1994, the EEA is open to all countries that share its objectives and are able to participate in its activities. The Agency currently has 24 member countries. These are the 15 EU Member States; Iceland, Norway and Liechtenstein, which are members of the European Economic Area; and, since 1 August 2001, six of the 13 countries in central and eastern Europe and the Mediterranen area that are seeking accession to the EU -- Bulgaria, Cyprus, Latvia, Malta, Slovenia and the Slovak Republic. Their membership makes the EEA the first EU body to take in the candidate countries.
In recent weeks Estonia, Hungary, Lithuania and Romania have also ratified EEA membership agreements and it is anticipated that the remaining three candidate countries -- the Czech Republic, Poland and Turkey -- will do so over the next few months. This will take the Agency's membership to a total of 31 countries.
Annex
Exceedances of the EU threshold for public information on ozone pollution in spring and summer 2001, by country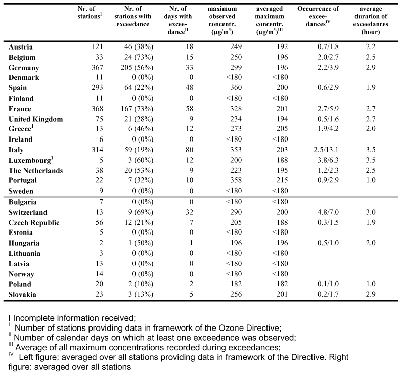 Click the thumbnail above or here to view an enlarged version of the annex [46 Kb]
Download the full report from this page.
Permalinks
Permalink to this version

Permalink to latest version
Geographic coverage
Topics