Climate change mitigation
Subtopics
Climate change is one of the biggest challenges of our times
Climate change is already happening: temperatures are rising, drought and wild fires are starting to occur more frequently, rainfall patterns are shifting, glaciers and snow are melting and the global mean sea level is rising. To mitigate climate change, we must reduce or prevent the emissions linked to human activities.
National policies and measures on climate change mitigation in Europe
How many policies and measures (PaMs) did the European Member States implement or plan to implement to reduce greenhouse gas emissions? What type of policies, affecting which sectors have been primarily reported? Were the European Union policies driving the development of national policies? The European Environment Agency's viewer explores PaMs reported by Member States under the EU Monitoring Mechanism Regulation.
The increased use of renewable electricity across the European Union has not only reduced pressures linked to climate change, but also to air and water pollution (particulate matter formation, eutrophication and acidification), according to a European Environment Agency (EEA) briefing published today. More targeted actions can help minimise the negative environmental effects of boosting renewable electricity supply.
Despite clear benefits, like cheaper energy and access to new resources, only a few European countries have embarked on cross-border renewable energy projects. Building on the experience of those countries is crucial for the success of future cross-border projects, according to a new European Environment Agency (EEA) briefing released today.
Greenhouse gas emissions from stationary installations covered by the European Union's Emissions Trading System (ETS) dropped by 9.1% in 2019 from 2018 levels, the largest drop in a decade, according to the latest European Environment Agency (EEA) briefing on trends and projections in the EU ETS released today.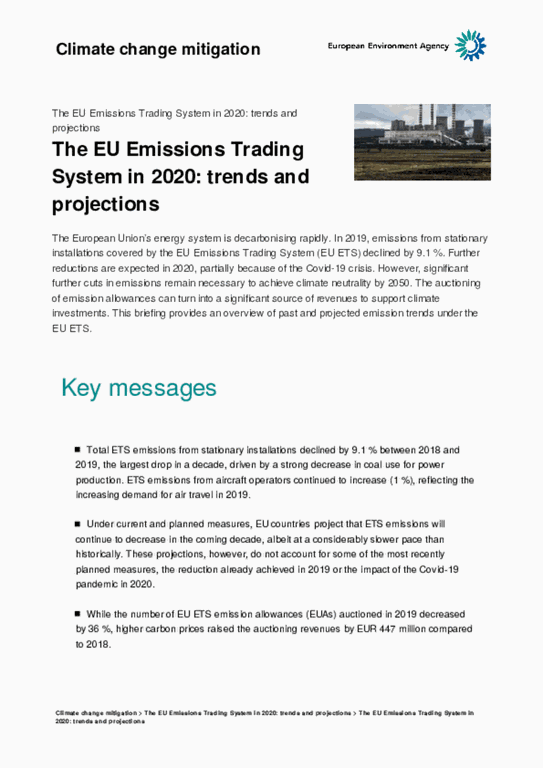 Published
: 14 Dec 2020
The European Union's energy system is decarbonising rapidly. In 2019, emissions from stationary installations covered by the EU Emissions Trading System (EU ETS) declined by 9.1 %. Further reductions are expected in 2020, partially because of the Covid-19 crisis. However, significant further cuts in emissions remain necessary to achieve climate neutrality by 2050. The auctioning of emission allowances can turn into a significant source of revenues to support climate investments. This briefing provides an overview of past and projected emission trends under the EU ETS.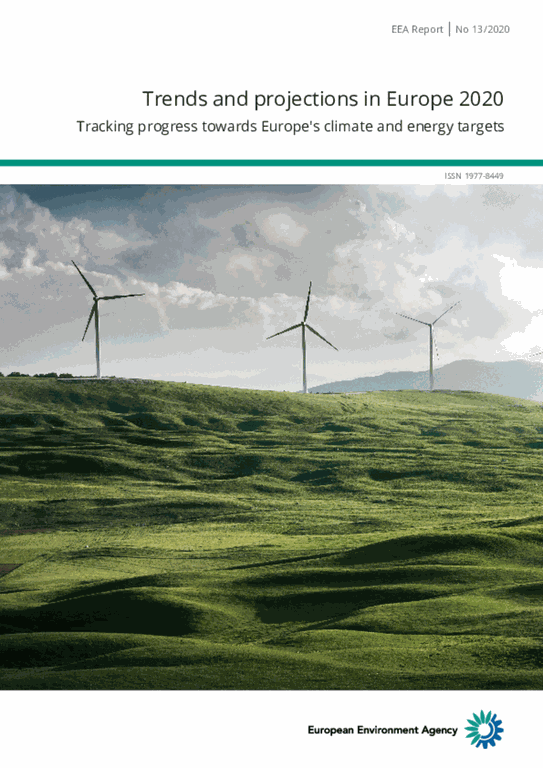 Published
: 30 Nov 2020
Tracking progress towards Europe's climate and energy targets. The annual 'Trends and projections' report provides an assessment of the progress of the EU and European countries towards their climate mitigation and energy targets. It is based on national data for greenhouse gas emissions, renewable energy and energy consumption.