Climate change mitigation
Subtopics
Climate change is one of the biggest challenges of our times
Climate change is already happening: temperatures are rising, drought and wild fires are starting to occur more frequently, rainfall patterns are shifting, glaciers and snow are melting and the global mean sea level is rising. To mitigate climate change, we must reduce or prevent the emissions linked to human activities.
National policies and measures on climate change mitigation in Europe
How many policies and measures (PaMs) did the European Member States implement or plan to implement to reduce greenhouse gas emissions? What type of policies, affecting which sectors have been primarily reported? Were the European Union policies driving the development of national policies? The European Environment Agency's viewer explores PaMs reported by Member States under the EU Monitoring Mechanism Regulation.
Working with nature and enhancing the role of ecosystems can help reduce the impacts of climate change and increase climate change resilience. Such an approach can deliver multiple benefits, including lowering pressures on biodiversity, improving human health and well-being, reducing greenhouse gas emissions and building a sustainable economy, according to a European Environment Agency (EEA) report published today.
Train travel remains overall the most environmentally friendly mode of motorised passenger transport in Europe — in terms of greenhouse gas emissions — as compared to travelling by car or plane, according to two transport and environment studies published by the European Environment Agency (EEA) today.
The ever-increasing amount of plastic, its impact on biodiversity and contribution to climate change, and how to deal with it in a circular economy perspective have been on the European Union's policy agenda for years. The COVID-19 pandemic has only increased the attention for plastic waste with images of masks in our seas, and large amounts of single-use protective gear. In the circular plastics economy report, published today, the European Environment Agency (EEA) analyses the need and potential for a shift to a circular and sustainable approach to our use of plastics.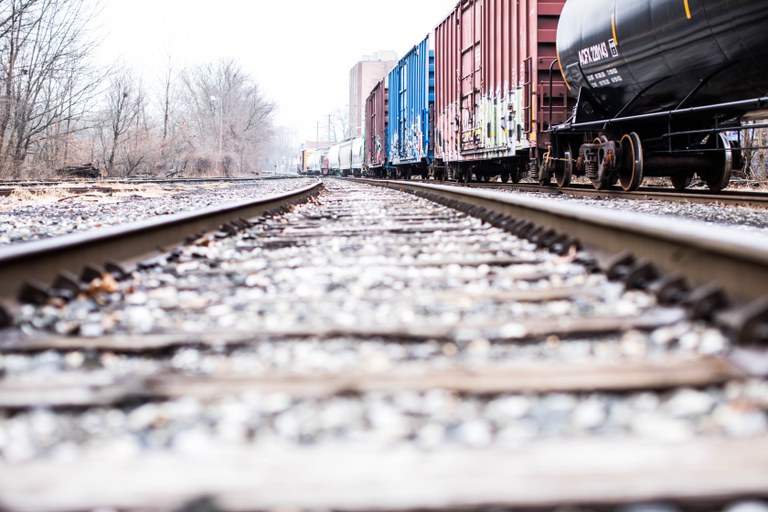 Published
: 24 Mar 2021
A new study commissioned by the EEA shows a clear hierarchy of passenger and freight transport modes, in terms of their greenhouse gas (GHG) emissions. Rail and waterborne transport have the lowest emissions per kilometre and unit transported, while aviation and road transport emit significantly more.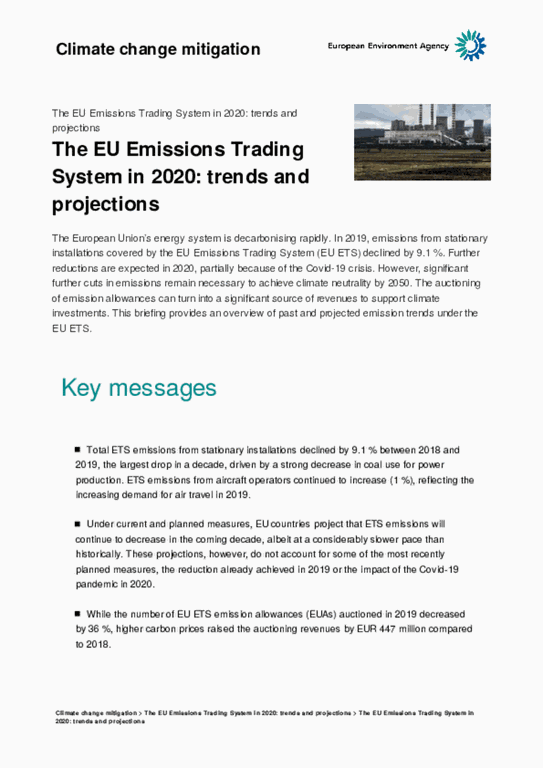 Published
: 14 Dec 2020
The European Union's energy system is decarbonising rapidly. In 2019, emissions from stationary installations covered by the EU Emissions Trading System (EU ETS) declined by 9.1 %. Further reductions are expected in 2020, partially because of the Covid-19 crisis. However, significant further cuts in emissions remain necessary to achieve climate neutrality by 2050. The auctioning of emission allowances can turn into a significant source of revenues to support climate investments. This briefing provides an overview of past and projected emission trends under the EU ETS.