Figure
Trends in passenger transport demand and GDP
Figure
Created 19 Apr 2010
Published 03 May 2010
Last modified 26 Aug 2017
This page was
archived
on
26 Aug 2017
with reason:
A new version has been published
Trends in passenger transport demand and GDP
/data-and-maps/figures/ga-downloads/9A93D32E-68EA-4D55-BA4C-EC55E5C3D9C9/trends-in-passenger-transport-demand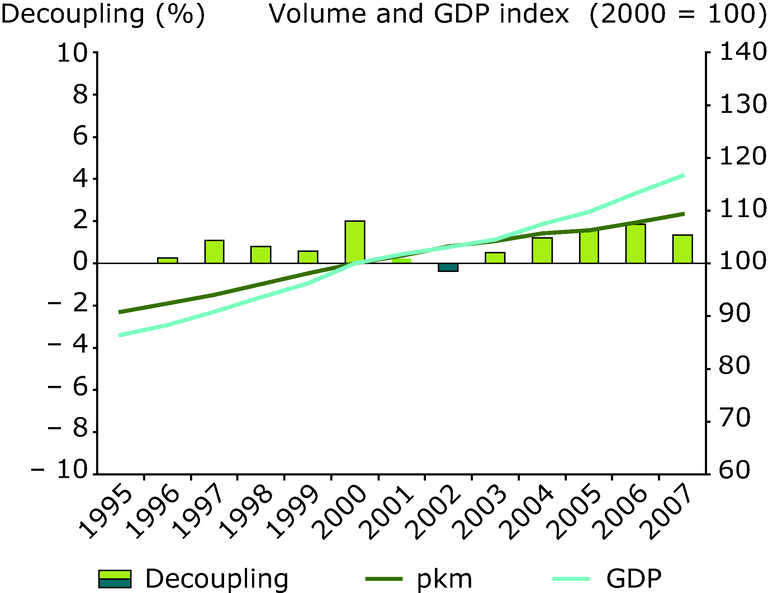 Download
Hard copy
Metadata
Additional information
The two curves show the development in GDP and passenger transport volumes, while the columns show the level of annual decoupling. Green indicates faster growth in GDP than in transport while blue indicates stronger growth in transport than in GDP. The data refer to road, rail and bus modes of passenger transport.
Data for 2007. Switzerland data are for 2005. No data available for Cyprus, Malta and Liechtenstein. There is no agreement among the EU Member States on how to attribute the passenger-kilometres of international intra-EU flights, therefore data for air passenger travels are deemed unreliable and not included.
Permalinks
Permalink to this version

Permalink to latest version
Geographic coverage

Topics