Figure
Observed trends in total global greenhouse concentrations, considering all greenhouse gases (incl. aerosols) for 1970-2010
Figure
Created 09 Jan 2013
Published 23 Jan 2013
Last modified 11 Sep 2015
This page was
archived
on
27 Feb 2015
with reason:
Other (New version data-and-maps/daviz/observed-trends-in-total-global-3 was published)
The figure shows the total global concentration of Kyoto protocol Gases (KPG), gases under the Montreal Protocol (MPG) and non-protocol related gases (NPG). NPGs contribute negatively, as they have an overall cooling effect, whereas the other gases contribute positively. The threshold concentration range is based on a 50% probability of exceeding 2 degree Celsius temperature increase, given different models and scenarios.
/data-and-maps/figures/ga-downloads/M6Q4Q38CS9/observed-trends-in-total-greenhouse-1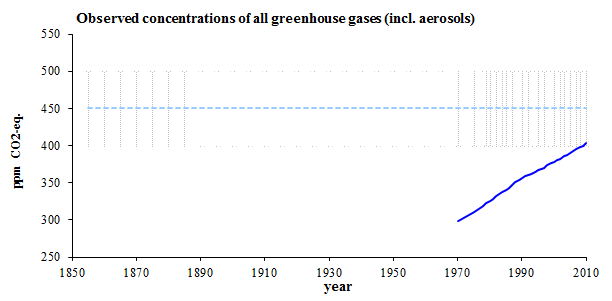 Download
European data
Metadata
Additional information
The figure covers the world-wide observed concentration. 
Data expressed in CO2-equivalents (see CSI013 justification for explanation).  Note that the trend in the figure is much shorter with respect to the one for Kyoto gases, due to the unavailability of long-term data for aerosols and ozone.
Permalinks
Permalink to this version

Permalink to latest version
Geographic coverage

Topics