Nature protection and biodiversity - State and impacts (Liechtenstein)
SOER 2010 Common environmental theme (Deprecated)
This page was
archived
on
21 Mar 2015
with reason:
A new version has been published
SOER Common environmental theme from Liechtenstein
Topic

Nature and biodiversity
Published: 26 Nov 2010 Modified: 11 May 2020
b) What are the state (S) and impacts (I) related to this theme, including impacts on the natural environment and human health/human well-being, both at national level as well as in transboundary terms?
Despite having a surface area of only 160 km2, Liechtenstein boasts a wide variety of fauna and flora (Table 1). This is largely due to its geological structure and varied topography. The Red Lists show that the diversity of species present is highly endangered. Thus, 25 % of plant species, 40 % of bird species, 71 % of fish species and 67 % of reptile and amphibian species are listed in the various categories of the Red Lists. The development of individual species is closely linked to how habitats develop. In Liechtenstein, largely in the Rhine Valley plain, developments similar to those in the surrounding regions can be seen, owing to the loss, fragmentation and isolation of suitable habitats.
In recent years, various measures have been taken to enhance habitats (e.g. revitalisation of watercourses, ecological offsetting areas in agriculture). In spite of these, the situation can be seen to have deteriorated for endangered species and species with special habitat needs. Habitat enhancement tends to favour species that are not endangered.
Table 1. Species numbers of selected plant and animal groups in Liechtenstein compared with Switzerland (Government of the Principality of Liechtenstein, 2009a).
Species group

Country

Species

Plants

Liechtenstein

Switzerland

1 500

2 700

Mammals

Liechtenstein

Switzerland

47

59

Bats

Liechtenstein

Switzerland

19

30

Breeding birds

Liechtenstein

Switzerland

134

175

Reptiles

Liechtenstein

Switzerland

7

15

Amphibians

Liechtenstein

Switzerland

10

18

Fishes

Liechtenstein

Switzerland

26

54
Conservation measures include protection areas, which in the form of legally protected nature reserves and protected forests make up 2 045 ha or 13 % of the country's land (Figure 1). The greater part of this is occupied by the protected forests, which cover 1 879 ha. They include forest protection areas without management of any kind and special forest areas where specific nature-conservation measures are being taken. In addition, measures are also being taken outside the protection areas to preserve animal and plant habitats. One example is the preservation of species-rich rough pasture – dry meadows and moist sites – for the cultivation of which contributions are paid. The species-rich dry sites are a relic of formerly extensive agricultural exploitation. Of approximately 125 ha included in the relevant inventory, 105 ha or 84 % are covered by agreements for biotope-appropriate use (as of 2009).
At the level of genetic diversity, the focus is on conserving the genetic diversity of cultivated plants. The aim of ensuring the continued existence of varieties is served by variety-specific nurseries and seed cultivation for the purpose of conservation.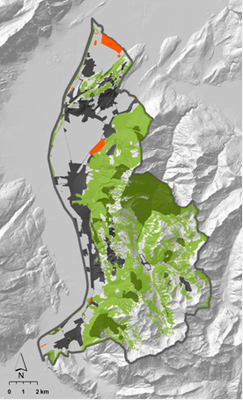 Fig. 1. Distribution of protection areas. Forest protection areas (dark green) are mainly in the mountains, nature protection areas (red) in the Rhine Valley plain (forest (light green), settlements (black); illustration by H. Schmuck, data: AWNL).