Nature protection and biodiversity - State and impacts (Latvia)
SOER 2010 Common environmental theme (Deprecated)
This page was
archived
on
21 Mar 2015
with reason:
A new version has been published
SOER Common environmental theme from Latvia
Topic

Nature and biodiversity
Published: 26 Nov 2010 Modified: 11 May 2020
Natura 2000 Protected Nature territories cover 12 % (or 784 300 hectares) of the territory of Latvia. There are 327 Natura 2000 Protected Nature territories for the protection of habitats and species.. Latvia's Specially Protected Nature Territories and designated Natura 2000 sites occupy almost 19 % of its territory.
Seven Specially Protected Marine Territories have recently been established and approved in Cabinet of Ministers Regulations[1] and are now accepted as a new category in Latvia's nature conservation system.
Figure 1 MAP OF SPECIALLY PROTECTED NATURE TERRITORIES IN LATVIA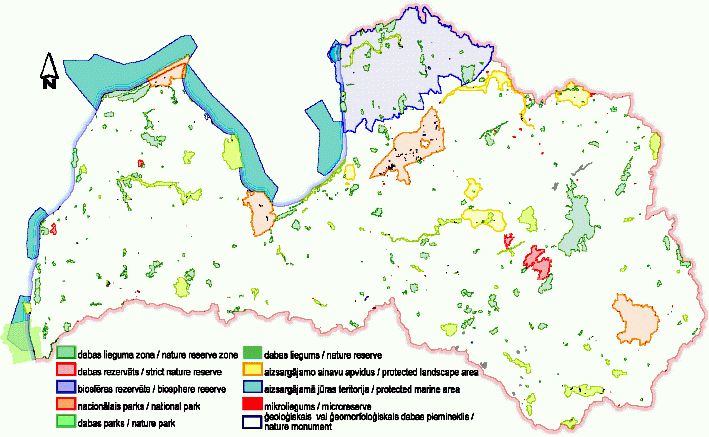 Source: Nature Protection Agency of Latvia
http://www.daba.gov.lv/public/lat/ipasi_aizsargajamas_dabas_teritorijas/
http://www.daba.gov.lv/public/eng/natura_2000/
SPECIALLY PROTECTED NATURE TERRITORIES BY CATEGORY IN LATVIA
Figure 2. A. NATURA 2000 DESIGNATED AREAS BY CATEGORY (TOTAL: 327)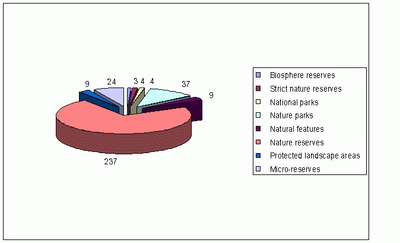 Figure 3. B. SPECIALLY PROTECTED NATURE TERRITORIES INCLUDING NATURA 2000 BY CATEGORY (TOTAL: 692)
Source:
1. Ministry of Environment of Latvia
- http://www.vidm.gov.lv/eng/darbibas_veidi/specially_protected_nature_territories/
2. Nature Protection Agency of Latvia
- http://www.daba.gov.lv/index.php?objid=816
- http://www.daba.gov.lv/index.php?objid=959
There are 18 047 animal, 5 396 plant and 4 100 mushroom species in Latvia. Experts consider 907 species (about 3.3 %) to be rare and endangered, while 723 plant and animal species and 93 biotopes have been included in lists of specially protected species and habitats. The protection of species and habitats is assured in Specially Protected Nature Territories and at Natura 2000 sites and micro-reserves.
Figure 4
Table 1. NUMBER OF SPECIES AND NUMBER OF PROTECTED SPECIES
Species and habitat management plans have been developed and adopted for certain species. The plans contain information about species distribution, significant areas requiring habitat protection, population of species or tendencies, influential factors and planned measures to improve the condition of the species or habitat. Endangered animals, plants and habitats are also protected outside of the protected areas. For example, protection of the wild Baltic salmon is one of a number of priority issues. Wetland ecosystems also play an important role in maintaining both the climate and the condition of water. Specific flora and fauna has developed in bogs and certain species preserved there are relics of the last glacial period around 20 000 years ago. One way in which the conditions for biodiversity are improved is by converting agricultural lands into natural areas when agricultural activity decreases.
The Nature Conservation Agency of Latvia oversees the implementation of nature protection policy in Latvia and maintains a database (geographical location, quantitative and qualitative status) of protected plants species, habitats and micro-reserves. However, the database on habitats and species has been compiled on the basis of fragmentary research. More modern data collection methods and methodological improvements are required to improve efficiency in this area.
Table 2. AREA OF NATURAL HABITAT TYPES AND QUALITY OF DATA ON AREA
Habitats

Quality of data on area (km²)

good

moderate

poor

Costal and halophytic habitats

2

107

Costal sand dunes and continental dunes

14

609

1

Freshwater habitats

824

Temp. heath and scrub, scleroph. scrub

1

14

Nat. and semi-nat. grassland formations

73

87

Raised bogs, mires and fens

1650

808

Rocky habitats and caves

1

Forests

2643
Source: Nature Conservation Agency
Figure 5.
As a result of climate change, a semi-enclosed sea structure and intensive shipping, invasive alien species pose an increasing risk for the marine ecosystems of the Baltic Sea.
Figure 6. FACT SHEETS ON INVASIVE ALIEN SPECIES
Source: The NOBANIS fact sheets http://www.nobanis.org/Charts.asp
---
[1] Regulations of the Cabinet of Ministers of Latvia No. 17 (17.01.2010) "On Specially Protected Marine Territories"