Marine signals
Page
Last modified 08 Dec 2022
This section of the zero pollution monitoring assessment presents a series of short case studies that highlight additional sources of information on the impacts of pollution on marine ecosystems.
Marine Signal 1: Marine litter watch
The EEA's marine litter watch (MLW) data viewer contains data on over 2 million beach litter items reported through the MLW app. Data collected through this citizen science initiative between 2013 and 2020 show that the average (median) number of beach litter items per 100-metre length of beach ranged from 73 in the Baltic Sea to 423 in the Black Sea. The Black Sea and Mediterranean Sea are significantly more polluted than the Baltic Sea and the North-East Atlantic Ocean; however, litter is excessive in all areas. Good environmental status for beach litter is 20 items per 100 metres — and European seas exceeds this threshold according to MLW data.
Plastics are the most abundant litter group along the shores of all European seas, ranging from 67% to more than 80% of the total. The most common items are single-use plastics and fishery-related items. The trend over the 8-year monitoring period indicates that the amount of litter is growing consistently. However, if the Black Sea is excluded, the trends for the other seas show a peak in 2017 after which there is evidence of a downwards trend (ETC/ICM, 2021), with the lowest values occurring in 2020 (possibly due to the impact of the COVID-19 pandemic).
Marine Signal 2: Underwater noise pollution
Noise is one of the most widespread human‑induced pressures in the marine environment (EEA, 2019). Ships and offshore activities cause underwater noise pollution. This can negatively affect marine life — resulting in, for example, behavioural and physiological changes in animals, such as increased stress (EMSA, 2021). These activities have a particular impact on species that are already at risk of extinction (EEA, 2021). Moreover, the range of continuous noise frequencies emitted by commercial ships can interfere with the critical frequency for various marine species, potentially masking the sounds that these animals make — which they rely on to communicate, hunt and protect themselves. This is particularly the case for cetacean species, such as whales and dolphins, which are highly vocal and use sound for communicating, food-finding, attracting mates, detecting predators and navigating.
Anthropogenic, underwater noise is mainly caused by commercial shipping and the offshore oil and gas exploration industry. While the offshore industry's seismic testing and pile driving create high-intensity, impulsive noise that can injure marine species, the lower levels of continuous noise emitted by commercial ships can also affect such species. This is especially true for mammals such as whales, which tend to use low-frequency noises themselves.
Ships are the predominant source of anthropogenic, low-frequency noise in oceans. One study estimates that 91% of Europe's seas are exposed to continuous shipping noise, and 10% are exposed to high shipping density (Tasker, 2016). Impulsive noise from construction, seismic exploration with airguns, explosions and high‑frequency sonar systems is spatially more restricted, being found in 8% of Europe's sea area.
Underwater radiated noise from ships has increased in EU waters since 2014, as shown in Figure 1 (EMSA, 2022). In particular, the total emissions at 125Hz (a frequency typically associated with noise from ships) steadily increased between 2014 and 2019. All regional seas show an increasing trend in ship-based, underwater radiative noise emissions. The relative decrease observed in 2020 is likely to have been due to the pandemic's impact on maritime traffic.
Figure 1. EU underwater noise energy by sea, 2014-2020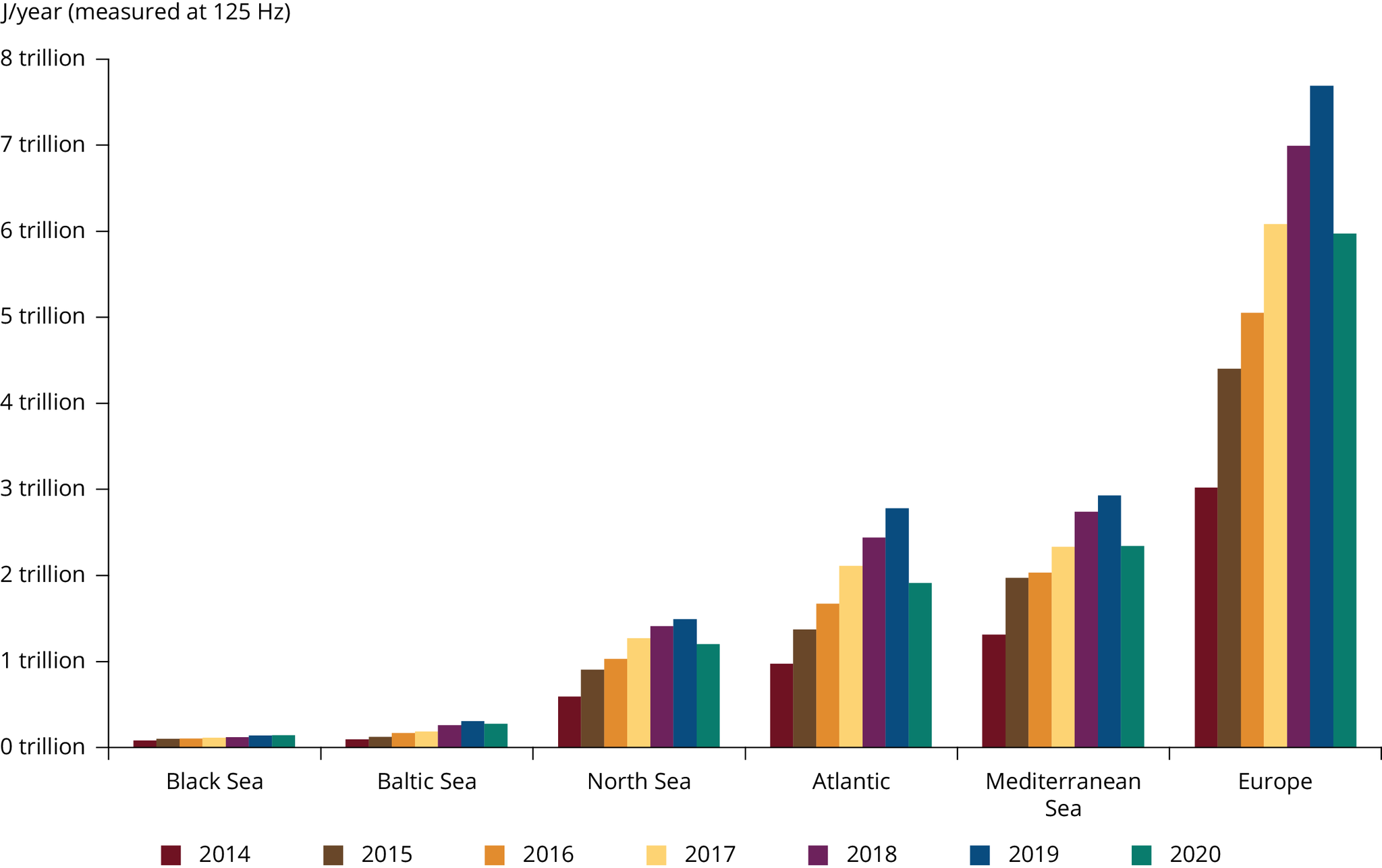 Note: Underwater radiated noise energy at 125Hz one-third octave band centre frequency.

Source: EMSA (2022).

Click here for different chart formats and data
References
EEA, 2019, Navigating the course towards clean, healthy and productive seas through implementation of an ecosystem‑based approach, EEA Report No 17/2019, European Environment Agency (https://www.eea.europa.eu/publications/marine-messages-2/) accessed 24 October 2022.
EEA, 2021, European maritime transport environmental report 2021, European Environment Agency (https://www.eea.europa.eu/publications/maritime-transport) accessed 24 October 2022.
EMSA, 2021, SOUNDS: Status of the underwater noise from shipping, EMSA/NEG/21/2020, European Maritime Safety Agency (https://www.emsa.europa.eu/publications/reports/item/4569-sounds.html) accessed 18 October 2022.
EMSA, 2022, 'Underwater noise', European Maritime Safety Agency (https://www.emsa.europa.eu/protecting-the-marine-environment/underwater-noise.html) accessed 18 October 2022.
Tasker, M. L., 2016, 'How might we assess and manage the effects of underwater noise on populations of marine animals?', in: Popper, A. and Hawkins, A. (eds), The effects of noise on aquatic life II. Advances in experimental medicine and biology, Springer, pp. 1139-1144 (https://doi.org/10.1007/978-1-4939-2981-8_141).
Cover image source: © Panagiotis Dalagiorgos, Well with Nature /EEA
Permalinks
Permalink to this version

Permalink to latest version
Geographic coverage