News
The Alps: Europe's cherished but endangered mountains
News
Published 09 Sep 2009
Last modified 17 Jul 2017
As the 'water towers of Europe', the Alps play a crucial role in sustaining the social and economic wellbeing of millions of people living in vast lowland areas. A complex and vulnerable ecosystem, they represent Europe's central landmark.
Troublingly, a report released today by the European Environment Agency concludes that global climate change poses a grave threat to the alpine hydrological system, altering precipitation, snow-cover patterns and glaciers, with further effects downstream. Hosting most of the headwaters of the rivers Danube, Rhine, Po and Rhone, the Alps are also exposed to increasing demand for water to satisfy the needs of agriculture and the tourism sector.
The EEA report calls on public and private actors at the regional and local levels to better coordinate water and land use and to share water resources more efficiently across sectors. Success factors for implementing adaptation include technological measures (such as improved irrigation techniques or wastewater and greywater re-use), initiatives to manage water demand (such as awareness raising and reducing water use by households) and ensuring full participation and empowerment of regional and local actors.
To supplement the broad projections of more frequent droughts in summer, floods and landslides in winter and higher inter-annual variability of precipitation, the report presents six case studies that illustrate experiences of regional adaptation to key water resource issues related to climate change in Austria, France, Italy, Slovenia and Switzerland. Together, they provide valuable insights into the forces that promote or obstruct adaptation and the types of measures that have proven successful.
The Alps and the report's case studies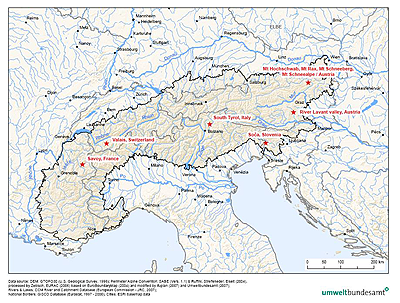 Download the full report here:

More information:
Permalinks
Permalink to this version

Permalink to latest version
Geographic coverage

Topics