Figure
Ecological Footprint variation per region (2005)
Figure
Created 12 Nov 2009
Published 02 Sep 2010
Last modified 31 Mar 2015
This page was
archived
on
31 Mar 2015
with reason:
Other (New version data-and-maps/figures/ecological-footprint-variation-per-region-1 was published)
How to read the graph: the EU has 487 million citizens, and a biocapacity of two global hectares per person
/data-and-maps/figures/ga-downloads/VSPOGAUNJR/ecological-footprint-variation-per-region-2005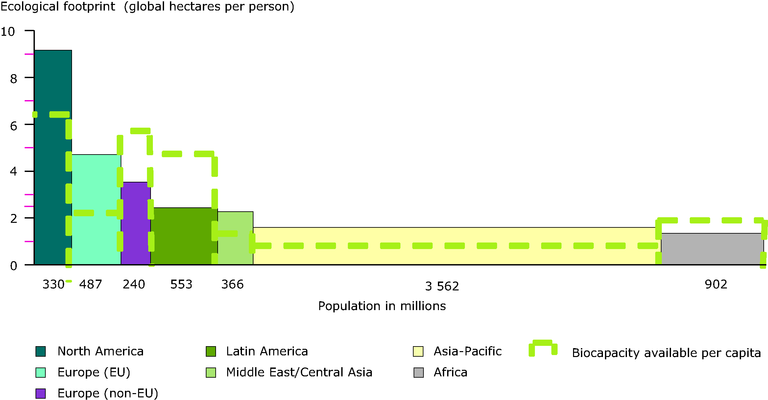 Download
European data
Metadata
Additional information
Geographical coverage: North America, Europe (EU), Europe (Non-EU), Latin America, Middle East/Central Asia, Asia-Pacific and Africa.
The Ecological Footprint however, is 4.5 hectares per EU citizen. The Footprint is the area used to support a defined populations consumption including the area needed to produce the materials consumed and to absorb the waste. The deficit is the difference between the biocapacity and Ecological Footprint of a region or country.
Permalinks
Permalink to this version

Permalink to latest version
Geographic coverage
Topics