Figure
Changes in wastewater treatment in regions of Europe between 1990 and 2007
Figure
Created 17 Aug 2010
Published 20 Dec 2010
Last modified 22 Feb 2017
This page was
archived
on
22 Feb 2017
with reason:
Other (This chart is available as Daviz)
This figure illustrates the percentage population per European region connected to an Urban Wastewater Treatment Plant over the period 1990 to 2007. In addition, a breakdown by treatment type is portrayed.
/data-and-maps/figures/ga-downloads/05F8CF37-EFA5-4228-B8B5-364EDBA312C4/changes-in-wastewater-treatment-in-regions-of-europe-between-1990-and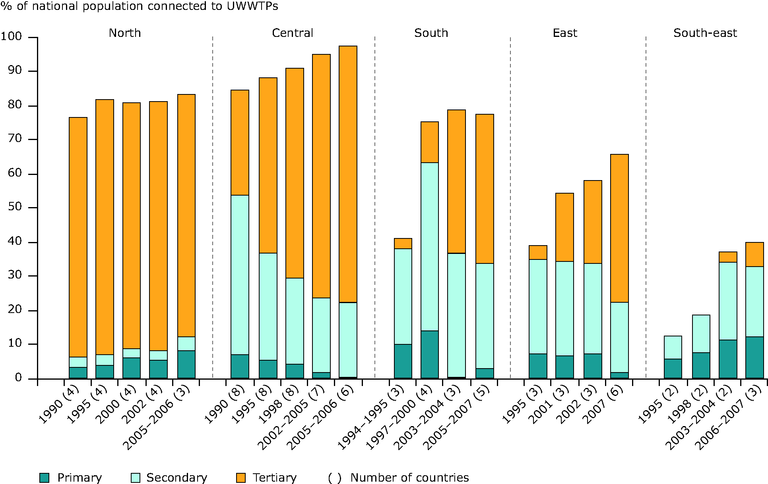 Download
Documents
European data
Metadata
Additional information
Northern: Norway, Sweden, Finland and Iceland
Central : Austria, Denmark, England & Wales, Scotland, the Netherlands, Germany, Switzerland, Luxembourg and Ireland
Southern: Greece, Spain and Portugal Cyprus, Greece, France, Malta, Spain and Portugal (Greece only up to 1997 and then since 2006)
Eastern: Czech Republic, Estonia, Hungary , Latvia, Lithuania, Poland, Slovenia, Slovakia
South eastern: Bulgaria , Romania and Turkey
Only countries with data from (almost) all periods were included, the numbers of countries are given in parentheses, see the country information per region in CSI024 Assessment 2010 Fig. 2 to 6. (http://www.eea.europa.eu/data-and-maps/indicators/urban-waste-water-treatment/urban-waste-water-treatment-assessment-2)
The percentages have been weighted with country population when calculating the group values.
Permalinks
Permalink to this version

Permalink to latest version
Geographic coverage

Topics