Heavily modified and artificial water bodies
Page
Last modified 07 Nov 2018
This page was
archived
on
07 Nov 2018
with reason:
Other (See www.eea.europa.eu/themes/water for updated content)
Many European river basins and waters have been altered by human activities, such as land drainage, dredging, flood protection, water abstraction and inter-basin water transfer, building of dams to create reservoirs and the digging of new canals for navigation purposes.


Water body

---

A water body is a certain clearly distinguishable part of surface water, such as a lake, a stream, river or a part a stream or river. A groundwater body is a certain volume of water under the surface, a part of a so-called aquifer. The water body is an important entity in the Water Framework Directive (WFD) and enables us to relate water protection to natural hydrological units.
Heavily modified water bodies

---

Sometimes the natural conditions of a water body are substantially altered, e.g. by irrigation, drinking water supply, power generation and navigation. The WFD recognises that in some cases the benefits of such uses need to be retained. If a series of criteria are fulfilled, it allows designation of the water body as "artificial" or "heavily modified", e.g. reservoirs, canals or canalised rivers.
These activities often lead to major changes in river processes, primarily the flow of the river, migration of animal species and the transport of particulate matter. Although the effects may not always be seen locally, their effects may be extensive. Downstream reaches are nearly always affected, and upstream reaches as well as the surrounding areas are often impacted on, too.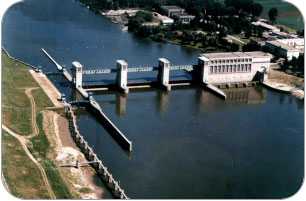 The Water Framework Directive distinguishes between two types of altered water bodies: Heavily Modified Water Body (HMWB) and Artificial Water Body (AWB):
HMWBare bodies of water which as a result of physical alterations by human activity are substantially changed in character and cannot, therefore, meet "good ecological status" (GES). In this context physical alterations mean changes to e.g. the size, slope, discharge, form and shape of river bed of a water body.
AWBsare surface water bodies which have been created in a location where no water body existed before and which have not been created by the direct physical alteration, movement or realignment of an existing water body.
Permalinks
Permalink to this version

Permalink to latest version
Geographic coverage

Topics