Contamination from local sources
Page
Last modified 23 Nov 2020
Throughout Europe soil contamination affects almost 250 000 sites, and is expected to continue growing. Potentially polluting activities are estimated at nearly 3 million sites across the EU, many of which need further investigation to establish the damage and whether soil remediation (clean up) is required. Although considerable efforts have been made in some countries, it will take decades to clean up the legacy of soil contamination. Over the last 30 years approximately 80 000 sites have been cleaned up in the countries where data on remediation is available.
Fig. 1 Overview of progress in the management of contaminated sites in Europe
Due to progress in monitoring and data collection, estimates on the number of sites requiring investigation and clean-up have increased in the recent past, a trend which is expected to continue.  In addition, the number of remediated sites is increasing, albeit relatively slowly [1].
The range of polluting activities — and their relative importance as localised sources of soil contamination — may vary considerably across Europe, with the most important sources being industrial and commercial activities and the treatment and disposal of waste.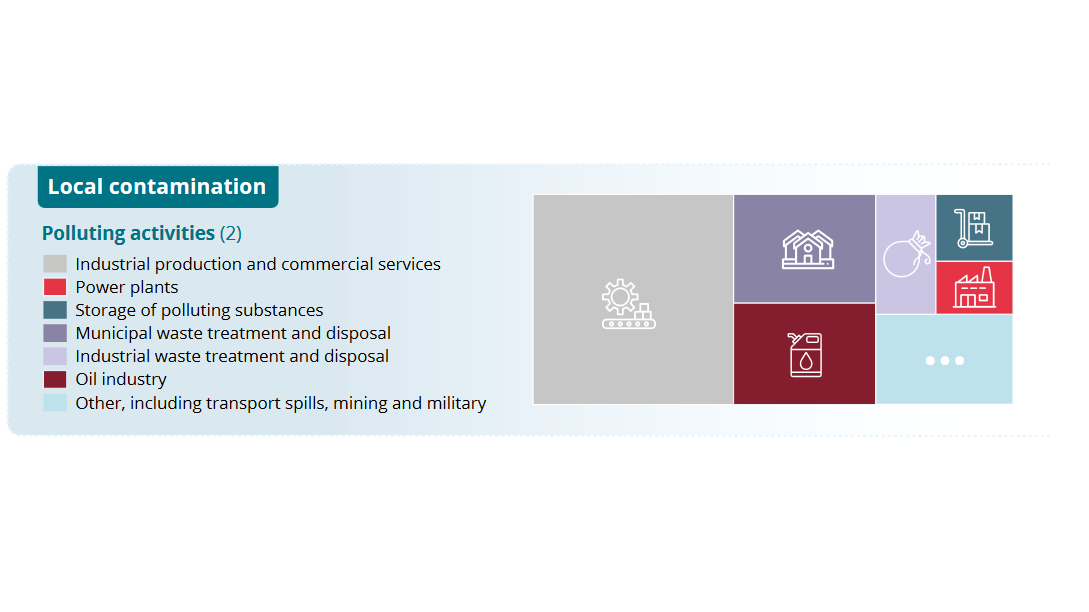 Note [2]:  Based on 2.8 million potentially contaminated sites in EU-28. Sizes of boxes are proportionate to the importance of local sources. (Estimated by Eionet National Reference Centres Soil, 2006)
Source: EEA Signals 2019
Reports from countries across Europe indicate that heavy metals and mineral oil are the most frequent soil contaminants at investigated sites, while mineral oil and chlorinated hydrocarbons are the most frequent contaminants found in groundwater. These estimates are based on the frequency a contaminant is reported at the investigated site. Other contaminants include polycyclic aromatic hydrocarbons (PAH), aromatic hydrocarbons (BTEX), phenols and chlorinated hydrocarbons (CHC).
Fig. 3 Overview of contaminants affecting soil and groundwater in Europe
Cleaning up contaminated sites is a costly exercise. However, in the countries where estimates are possible, the annual expenditure remains relatively small, on average representing 2 % of the estimated costs necessary for the overall management of contaminated sites.
Although most of the countries in Europe have legislation which apply the "polluter-pays" principle to the management of contaminated sites, large sums of public money are still provided to fund remediation activities: on average 35 % of the total expenditure. This is primarily due to the limited nature of the legislation, especially in the case of the remediation of historical contamination, where many of the legally responsible polluters no longer exist, cannot be identified or are insolvent.
Sadly this is a common trend across Europe. The proportion of public funds used to clean up contaminated sites ranges from 100 % in the Czech Republic, former Yugoslav Republic of Macedonia and Spain, to a minimum of approximately 7 % in France, where a large proportion of funds comes from the private sector. But like many aspects of soil information only approximate data on public expenditure is available and information on private expenditures remains patchy.
Fig. 4 Estimated allocation of public and private expenditure for the management of contaminated sites
[1] Estimates do not include Cyprus, Poland and Portugal.
See also: Status of local soil contamination in Europe, JRC, 2018 : a report by the Joint Research Centre in collaboration with the European Information and Observation Network (Eionet) national reference centres for soil.
Permalinks
Permalink to this version

Permalink to latest version
Geographic coverage

Topics