Land and Ecosystem Accounting (LEAC)
Page
Last modified 07 Sep 2017
This page was
archived
on
07 Sep 2017
with reason:
Content is outdated
What is the surface covered by forests in Europe? Has this surface increased or decreased between 1990 and 2000? Which of the European countries has got the major increase of artificial surfaces in its coastal area between 1990 and 2000?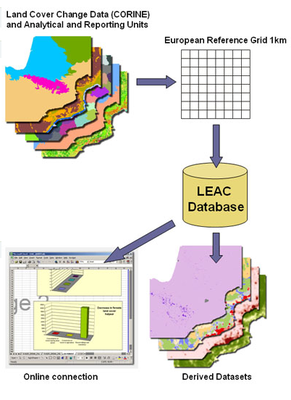 These are basic questions that can be answered in few minutes using the tools provided by the LEAC project (ETC-LUSI, European Topic Centre on Land Use and Spatial Information). LEAC is based on a powerful methodology that allows the spatial analysis of land cover change through all the European territory.
Online data and layers
Databases
The core data of the LEAC project have been structured in a relational database model in order to allow quick and easy analyses. These databases have been made publicly accessible through the Internet.
Layers
From the LEAC database, various geographical layers have been derived such as land cover flows, Corilis, the green potential background layer and the dominant land-cover types.
More about LEAC
Permalinks
Permalink to this version

Permalink to latest version
Geographic coverage

Topics