Land use - State and impacts (Portugal)
SOER 2010 Common environmental theme (Deprecated)
expired
This page was
archived
on
21 Mar 2015
with reason:
A new version has been published
SOER Common environmental theme from Portugal
Topic

Land
Published: 26 Nov 2010 Modified: 21 Mar 2015
Land use change mapping activities carried out between 2000 and 2006 reveal that during this short period of time, approximately 8.6 % of the national territory was modified, attesting to an active dynamic of change. These modifications include the expansion of artificial surfaces (an increase of 10 % or 28 000 hectares), construction of dams (in particular, the Alqueva dam and the extension of its influence) and the conversion of agricultural areas into natural areas, and vice-versa (APA, 2009).
The most significant modifications concern forest classification. Given the prevalence of forests in the centre of the country, this region of Portugal registered the most significant modifications of land use during the period 2000-2006. A contributing factor to the changes in this sector are the numerous forest fires which affect the country every year and have a huge impact on the landscape and land cover.
Land Cover, 2006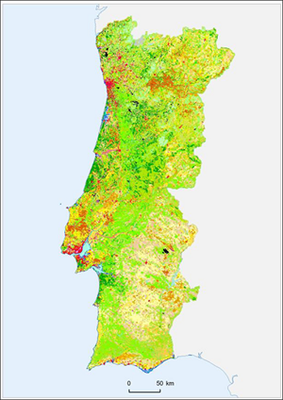 Source: IGP, 2009
For additional information on CLC2006
http://www.igeo.pt/gdr/pdf/CLC2006_final_report.pdf
Land use changes between 2000 and 2006
Source: IGP, 2009
In 2006, a total of 71 % of continental Portugal was given over to forest and agriculture and approximately 15 % was a mixture of agriculture and natural areas. Artificial surfaces represented 3.5 % and natural vegetation 8.6 % of land cover (IGP, 2009). In spite of land use modifications, the overall distribution remains comparable to that registered in 2000. Forests and areas of natural vegetation continue to dominate land cover in continental Portugal and remain the focus of the most dynamic modifications.
Although tracts of forest land have been converted to other uses, new forests have also been planted. Between 2000 and 2006, there was a net increase of 30 000 hectares in forest cover. In contrast, areas covered by natural vegetation declined by 27 000 hectares or 3.5 % (APA, 2009).
Water bodies are one of the land use types which have registered the largest growth: a total of 18 000 hectares between 2000 and 2006. The increase in artificial surfaces is continuing on the upward trajectory it has been following since 1986, mostly at the expense of agriculture areas. This also contributes to the generalised and increasing trend of soil sealing. Between 2000 and 2006, this class increased by 10 %, mainly as a result of disperse urbanisation, a common trait in the Portuguese landscape.
Land Cover, 2006
Source: IGP, 2009; APA, 2009
Land use changes by class (ha) between 2000 and 2006
Source: IGP, 2009; APA, 2009
Land use changes by class (% in relation to 2000) between 2000 and 2006
Source: IGP, 2009; APA, 2009
Between 2000 and 2006, over 28 000 hectares of agricultural, forest and other semi-natural and natural land was converted to urban areas and other artificial developments. Exactly 50 % of that amount was taken from forests and 40 % from agriculture.
Urban sprawl and soil sealing are continuing apace in Portugal and both tendencies are expected to increase in the future.
Land uptake by urban development (between 2000 and 2006)
Source: IGP, 2009; APA, 2009
The significant spatial transformation of Portuguese territory has created a complex set of problems for spatial planning (MAOTDR, 2007):
· Insufficient safeguards and enhancement of natural resources (resulting in soil and water quality degradation and increased risk of desertification);
· Inefficient risk management (in relation to seismic activity, forest fires, floods, droughts and coastal erosion);
· Disorderly urban expansion causing fragmentation and degradation of surrounding areas (affecting quality, ecology, production and landscape potential and contributing to the depopulation and deterioration of other areas);
· Inefficient and non-sustainable transport and energy management in terms of environment and economics (insufficient transport intermodality, too much dependency on private vehicles and insufficient development of other transport modes such as rail; high energy and carbon intensity of economic activities and mobility solutions and high dependency on foreign energy sources – oil, coal and natural gas);
· Inadequate territorial distribution of infrastructure.
In summary, over the last 25 years, Portugal has seen huge change in its urban areas, predominantly those located along the coast, where a constant accumulation of population has contributed to a loss of quality of life, while other territories have suffered from desertification.
Higher population growth rates have been most common in the municipalities located along the coast, mainly in the metropolitan areas of Lisbon and Oporto (housing 39 % of the total population), while the remaining municipalities have lost inhabitants, with some exceptions in cities that host universities or specialised industries. More than one quarter of all population resides in the Lisbon area (at the beginning of the 1960s this proportion was one sixth).
References
APA (2009). Relatório do Estado do Ambiente. Agência Portuguesa do Ambiente. Amadora
http://www.apambiente.pt/divulgacao/Publicacoes/REA/Documents/REA%202008_Final.pdf
MAOTDR (2007). Programa Nacional da Política de Ordenamento do Território. Ministério do Ambiente, do Ordenamento do Território e do Desenvolvimento Regional, Lisboa.
http://www.territorioportugal.pt/pnpot/Storage/pdfs/PNPOT_RELATORIO.pdf
Permalinks
Permalink to this version

Permalink to latest version