Article
Close up — An ocean of plastics
Article
Published 30 Aug 2018
Last modified 11 May 2021
Photo: ©
Alex Marttunen, WaterPIX / EEA
Mass-produced plastics were introduced around the middle of the last century as a miracle material — light, mouldable, durable and strong. Since then, the production of plastics has increased rapidly, bringing many benefits to society. Now, some 70 years later, annual plastics production is more than 300 million tonnes, and we have begun to understand the true legacy of these products: they never fully 'disappear' from the environment.
Marine litter — The part you can see
Part of the problem with plastic waste is what we have come to know as marine litter. This is waste that we can see on our beaches and floating in our seas. Most of it comes from the land, either with the wind or with rainwater run-off.
Heart-breaking pictures of dead seabirds that have swallowed everything from toy parts to cigarette butts, turtles entangled in six-pack holders, whale carcasses filled with plastics — these are the images and stories that have made the problem of marine litter well known. What is less well known, even among experts, is the exact scale of the problem.
There is growing evidence, however, that cleaning up the oceans is becoming a very, very difficult task. According to a recent study by the World Economic Forum, about 8 million tonnes of plastics leak into the oceans every year. Other estimates put the figure at between 10 and 20 million tonnes, and, according to one study, there are already more than 5 trillion pieces of plastic debris in the ocean.
For almost all these pieces of plastic, their journey starts on land, then continues in a river to end up in the ocean, where large patches of debris accumulate and grow larger every year. Some have even referred to the Pacific Ocean garbage patch as the eighth world continent.
The EEA's app to monitor marine litter
The key to tackling plastics in our seas is to understand what exactly it consists of and where it comes from. The EEA has developed a mobile app — Marine LitterWatch — that allows users to register marine litter found on beaches. Under the EU Marine Strategy Framework Directive, Member States have to come up with strategies to bring the levels of plastics in the sea down to a level that does not cause any harm. Gathering this marine litter data contributes to a better understanding of the problem, which can help the EU and its Member States to tackle the problem in the most effective way.
From 2014 to 2017, nearly 700 000 pieces of litter were registered in the Marine LitterWatch database. Of those items, more than four out of five were different types of plastic. The most common items found on beaches, by far, were cigarette butts and filters (18 % of all items), followed by different forms of plastic, including bottle caps, cotton bud sticks, grocery bags and food wrapping.
Micro- and nanoplastics — What is under the surface
While we can count and, to some extent, collect pieces of litter from our beaches, there is another part of the plastic pollution problem that is even more difficult to clean up.
With time and exposure to sunlight, plastic waste fragments into ever smaller pieces. Micro- and nanoplastics are the result of this constant fragmentation and, in some cases, they have been intentionally added to cosmetics or other products, giving them a direct route to water bodies through the sewerage system. Advanced waste water treatment plants can filter more than 90 % of these particles but this does not make them disappear. The remaining sludge is often spread on land. Even these particles can end up in water bodies in the event of flash floods or heavy precipitation.
These smallest particles are hardly visible to the eye and their impacts on nature and our health are still poorly understood. Adding to the concern, many plastics are highly absorbent, attracting other contaminants, such as heavy metals, endocrine-disrupting chemicals and persistent organic pollutants. These substances can have a wide range of harmful effects on animals and humans, including birth defects, cognitive development disorders, fertility problems and cancer.
As the EEA report State of Europe's seas found, the concentrations of contaminants in pieces of micro-plastic can be thousands of times greater than in ambient seawater and they can expose marine life to harmful chemicals. In this way, microplastics and the chemicals they carry will also eventually end up on people's plates and in their digestive tracts.
A new way to think about plastics
As a result of new knowledge, it is becoming clear that we should think about plastics as a type of pollutant from the point of their production and prevent plastic products and waste from leaking into the environment.
To help tackle the plastics problem, at the start of 2018 the European Union proposed the European strategy for plastics in a circular economy. The strategy aims to 'transform the way products are designed, produced, used, and recycled in the EU'. Making recycling more profitable and curbing plastic waste, especially from single-use products, are among the key initiatives of the strategy. The European Commission has also asked the European Chemicals Agency to look into whether microplastics added to cosmetics, body washes and paints should be restricted or banned to prevent environmental harm. As part of the EU plastics strategy, the European Commission has also proposed new rules targeting the top 10 single-use plastic products found on Europe's beaches and in its seas, as well as lost and abandoned fishing gear.
The strategy acknowledges that, as with many environmental problems, forging global cooperation is key to stopping plastic pollution. According to a German study, about 90 % of plastic waste in the world's oceans comes through just 10 large rivers, eight in Asia and two in Africa: the Yangtze, Indus, Yellow, Hai, Ganges, Pearl, Amur, Mekong, Niger and Nile rivers. In theory, this should also make it easier to tackle the problem.
Focusing attention on plastic pollution has boosted research and innovation to better understand and eventually solve the problem. Recently, a research project, led by Orb Media, tested 11 major brands of bottled water and found that 93 % of bottled water showed some sign of microplastic contamination. On the solution side, an international team of scientists has managed to create an enzyme that can break down plastic bottles into material to make new bottles.
The growing concern over plastics, especially in the marine environment, is also making ordinary consumers a powerful force in stopping plastic pollution and the growing demand for more environmentally friendly alternatives creates business opportunities. Recently, a Dutch supermarket opened the world's first plastic-free aisle with 700 plastic-free products. Similarly, to cut down plastic pollution, a UK supermarket has started to allow customers to collect meat and fish in their own containers. There are also innovations in biodegradable materials that can now be produced, for example, from cellulose sourced from recycled paper, textiles, plants or algae.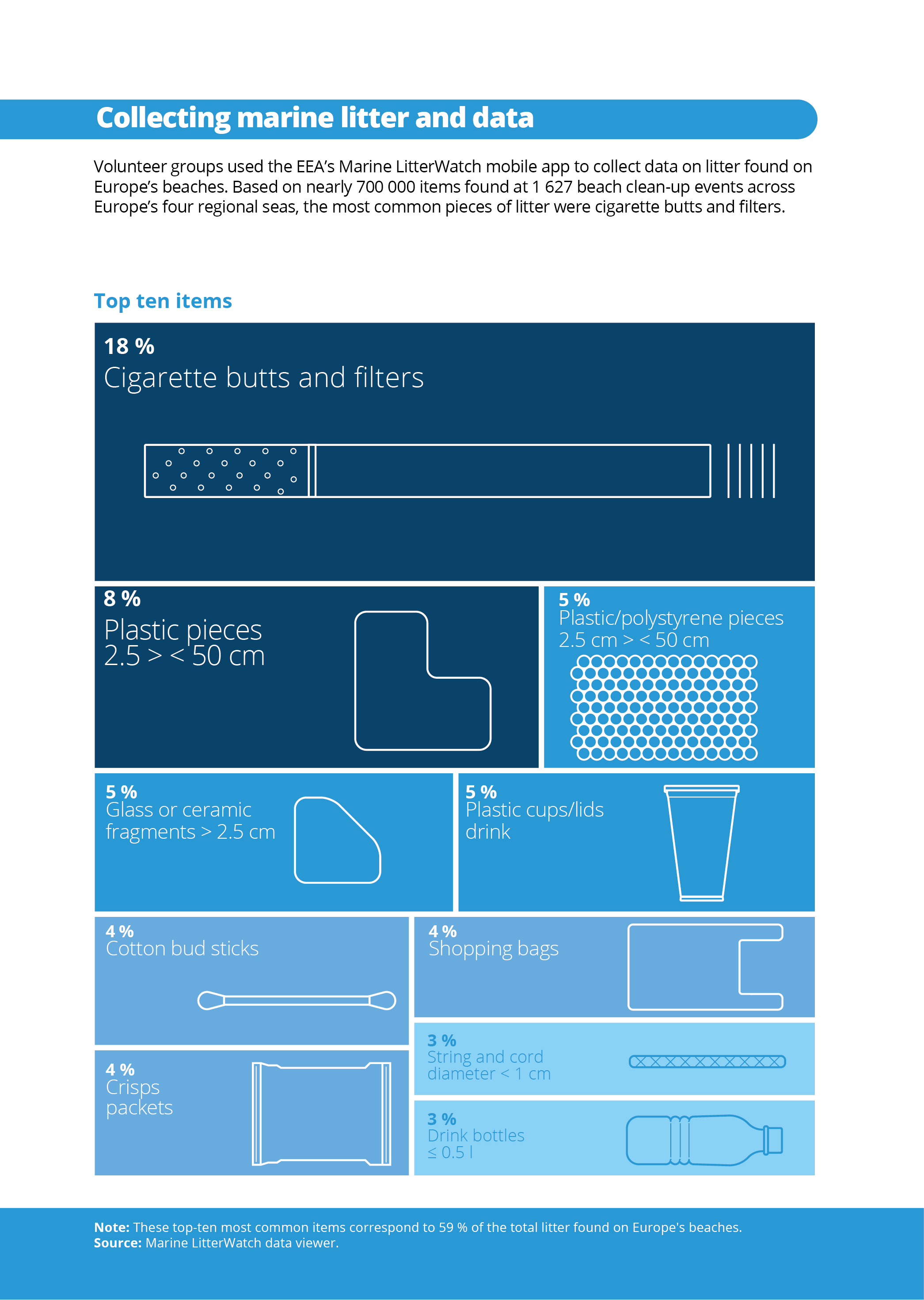 Permalinks
Permalink to this version

Permalink to latest version
Geographic coverage

Topics