Indicator 24: Uptake of cleaner fuels
The share of unleaded petrol continues to increase in the EU (total inland deliveries rose from 0 % to 75 % during 1985-1997); leaded petrol is expected to be almost phased out by year 2000 and completely phased out by 2005. Despite efforts at the EU level to promote alternative (electricity, natural gas, fuel cells) and renewable energy sources (biofuels) for transport, these still have a low penetration.
Figure 6.11: Unleaded fuel use in the EU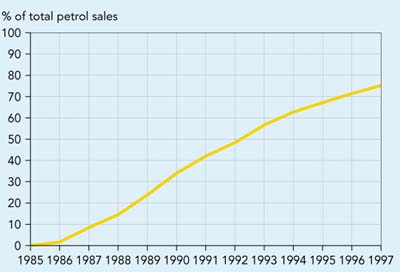 Source: Eurostat
Objective
Switch to more environment-friendly fuels (e.g. phase out leaded petrol).
Definition
Market share of cleaner fuels (unleaded petrol and low-sulphur fuel) and alternative fuels (electricity, liquefied petroleum gas (LPG), natural gas, alcohol mixtures, hydrogen and bio-fuels
Policy and targets
The transport sector is highly dependent (99 %) on non-renewable fossil fuels, the combustion of which results in emissions of air pollutants. The share of cleaner conventional and alternative fuels is therefore an important determinant of the transport sector's contribution to air pollution.
Efforts are underway at EU level for promoting alternative and renewable energy sources for transport. However, some alternatives, particularly electricity and hydrogen, simply move some of the air pollution (including CO2) elsewhere, unless renewable or nuclear sources are used. Nevertheless, electric engines may be less damaging to health and certainly produce less noise. The Auto-Oil programme includes measures for improving the quality of fuels. The EU also promotes alternative fuels through demonstration programmes such as the ALTENER II and THERMIE programmes (COM (97) 550 and COM (99) 212).
Directive 98/70/EC relating to fuel quality sets quantitative targets for 2000, including:
phase out leaded petrol;

reduce the sulphur content in petrol and diesel to a maximum of 150 and 50 mg/kg, respectively;

reduce the benzene content of petrol to a maximum of 1 %.
There are no EU targets for promoting electricity, liquefied petroleum gas, natural gas, alcohol mixtures, hydrogen and biofuels.
At the national level, Sweden aims to increase the proportion of environment-friendly fuels to at least 1 % by year 2000. Public bodies in France operating more than 20 vehicles are obliged to acquire 20 % of alternative-fuel vehicles as the older ones are replaced. Provisions have also been made for encouraging the purchase of electric cars through financial aid packages.


Findings
Unleaded petrol was introduced in Europe in 1985. The share of unleaded petrol increased on average by 6.8 % per year, reaching 75 % in 1997. With Directive 98/70/EC, an almost complete phase-out should be achieved by 2000. Due to derogations, however, a complete phase-out will not be achieved before 2005. There are considerable variations between Member States. The Nordic countries, Austria, Germany and the Netherlands are no longer selling leaded petrol, while it is still predominant in Spain, Greece and Portugal.
Consumption of natural gas and LPG for transport has grown slowly (about 1.8 % per year), matching new registrations of alternative-fuel vehicles. Because the consumption of other fuels expanded more quickly, the share of alternative fuels fell from 1.5 to 1.3 % between 1985 and 1996 (Figure 6.12). This is due to the ever-growing demand for transport coupled with the low turnover rate of the vehicle fleet. The environmental effects of LPG as a fuel are discussed in Box 6.6.
Figure 6.12: Consumption of liquefied petroleum gas (LPG) and natural gas by road transport and share in total fuel consumption (EU15)

Source: Eurostat


Box 6.6: LPG buses and the environment
In many major cities across Europe, especially in Austria, Denmark and the Netherlands, some diesel-driven buses are being replaced with buses running on liquefied petroleum gas (LPG).

Emissions of air pollutants affecting the local environment are markedly less than from diesel engines. Reductions of NOx,

NMVOCs and particulate matter range from 50-85 % compared with diesel buses complying with the EU emission standard EURO II, which entered into force in 1997 (see Indicator 24), but this is probably an underestimate since the LPG buses have generally replaced older and more polluting buses.

Table: 6.2 Emissions from diesel and LPG busses (g/kWh)




| | | |
| --- | --- | --- |
|   | Diesel bus complying with EURO II | LPG bus |
| NOx | 7.0 | <1.0 |
| NMVOC | 1.1 | <0.6 |
| PM | 0.15 | <0.05 |

Source: HT (the transport authority of the Greater Copenhagen Council)

The LPG buses have also reduced noise levels. In general, the level of noise from a LPG bus is 3 dB(A) less than a diesel bus, which is equal to halving the perception of noise.
Energy consumption, however, and hence CO2 emission, is about 33 % higher than the most energy-efficient diesel engines on the market.

Future work
Data on the number of alternative-fuelled vehicles is not available for all Member States. Additional efforts are needed to ensure routine collection of such data.

Data limitations preclude the presentation of modal breakdowns for this indicator. The feasibility of providing such information needs to be established.
Data
Share of unleaded in total petrol consumption
Unit: percentage

 

1985

1986

1987

1988

1989

1990

1991

1992

1993

1994

1995

1996

1997

Austria

0

23

29

35

43

51

58

67

97

100

100

100

100

Belgium

0

0

0

0

15

25

37

47

57

65

69

74

79

Denmark

0

10

29

32

40

57

63

70

76

98

100

100

100

Finland

0

0

0

1

20

54

58

70

87

100

100

100

100

France

0

0

0

0

2

14

25

34

44

50

56

61

65

Germany

0

3

25

44

57

68

77

84

89

92

95

97

100

Greece

0

0

0

0

0

2

7

16

23

28

31

38

43

Ireland

0

0

0

0

7

19

25

32

39

49

56

65

74

Italy

0

0

0

1

2

5

7

13

24

33

42

47

50

Luxembourg

0

0

0

10

20

30

45

58

69

76

79

84

88

Netherlands

0

0

20

26

38

48

60

70

75

80

84

92

100

Portugal

0

0

0

0

0

2

9

13

21

30

36

42

48

Spain

0

0

0

0

0

1

3

6

14

22

26

35

41

Sweden

0

7

15

37

43

55

57

59

80

99

100

100

100

United Kingdom

0

0

0

1

19

34

41

47

53

58

63

68

80

EU15

0

2

8

15

24

34

42

48

57

63

67

71

77

Source: Eurostat
Permalinks
Permalink to this version

Permalink to latest version