Press Release
The European Environment Agency in Copenhagen will co-operate with 17 meteorological institutes all over Europe
Press Release
Published 03 Sep 1998
Last modified 28 Jun 2016
NEWS RELEASE
Copenhagen, 3 September 1998
The European Environment Agency in Copenhagen will co-operate with 17 meteorological institutes all over Europe
A new agreement between the European Environment Agency (EEA) and the Conference of the European National Meteorological Services (EUMETNET) boosts international environmental co-operation
International environmental co-operation has been strengthened with an agreement of co-operation between the European Environment Agency (EEA) in Copenhagen and the Conference of the European National Meteorological Services (EUMETNET). The co-operation will include new methods for predicting future air pollution episodes, continuous monitoring of air quality and climate changes on the European continent, and the exchange of timely information and descriptions of the actual state of the climate in Europe.
The members of EUMETNET have selected the Danish Meteorological Institute (DMI) to be Chair of the EUMETNET's new environment working group (in this capacity DMI in Copenhagen, Denmark, now becomes one of EEA's working partners).
The agreement between EEA and EUMETNET will be signed on Friday 4 September 1998 by the Executive Director of EEA, Domingo Jiménez-Beltrán, and by the Director-General of the Danish Meteorological Institute, Lars P. Prahm.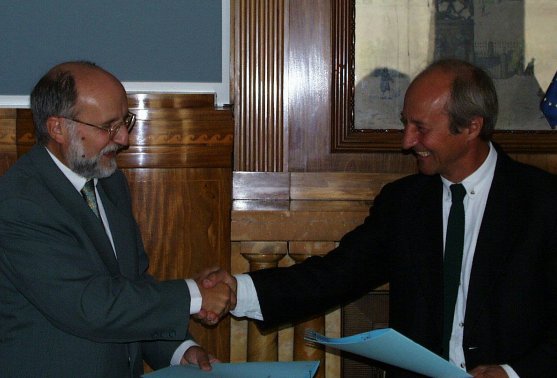 Domingo Jiménez Beltran and Lars P. Prahm signed the contract
The aim of the agreement is to strengthen and co-ordinate co-operation in the environmental field between the various meteorological institutes as well as to create an efficient co-operation with the EEA and other relevant environmental institutions. In this way the expertise within these institutes can be utilised in the best interests of the European population as a whole, in particular for reports on environment in the European continent and in the EU such as "Europe's Environment: The Second Assessment" presented by the EEA at the Århus Conference in June 1998. As a result, EEA assessments of the current and future state of the environment, especially in the areas of climate change, acidification, ground level ozone and air quality, can be further improved.
The EEA was set up in 1993 by the EU with the goal to provide objective, reliable and comparable information with respect to significant environmental issues in Europe. This enables EU member countries to move efficiently to protect the environment and to inform the general public of the present state and development of the environment. The EEA provides objective, reliable and comparable information on Europe's environment for those concerned with framing and implementing European and national environmental policy, and for the public.
EUMETNET provides the framework for co-operative programmes between 17 European National Meteorological Services covering in area observation and operation within all the EEA Member States (i.e. EU Member States, Iceland, Liechtenstein and Norway). The programmes relate to meteorological observing systems, data processing and weather forecasting activities, and provision of service to environment management and climate monitoring. The EUMETNET Working Group for Environment (WG-ENV) was established in 1997 with a mandate from the EUMETNET Council to develop relations with EEA.
Further information can be obtained by contacting the chairman of EUMETNET's Working Group, Dr Jens Havskov Sørensen, Senior Scientist, Danish Meteorological Institute, tel. +45 39 15 74 32 or Mr Gabriel Kielland, Project Manager, European Environment Agency, tel. +45 33 36 71 19.
European Environment Agency
Kongens Nytorv 6
DK-1050 Copenhagen K
Tel +45 33 36 71 00
Fax +45 33 36 71 99

EUMETNET's Working Group
c/o Danish Meteorological Institute
Lyngbyvej 100
DK-2100 Copenhagen Ø
Tel +45 39 15 75 00
Fax +45 39 27 10 80
http://www.dmi.dk
Permalinks
Permalink to this version

Permalink to latest version