News
Climate change conference opens in Poland
News
Published 28 Nov 2008
Last modified 21 Jun 2016
A step closer to a post-2012 deal on climate change is what is at stake as over 10 000 participants from governments, non-governmental organisations, and science and business communities gather for a two-week UN conference in Poznań, Poland. The European Environment Agency (EEA) is hosting a side event on 'Impacts of and adaptation to climate change in Europe' on 11 December 2008.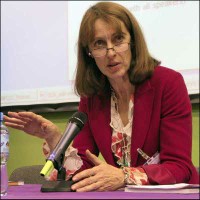 A total of 192 countries have ratified the United Nations Framework Convention on Climate Change, the most important agreement for international actions to tackle climate change. Under the Convention's Kyoto Protocol, ratified by 183 nations, industrialised countries are required to reduce their emissions for the period 2008–2012. The signatory parties to the Convention and to the Kyoto Protocol come together once a year for the 'Conference of the Parties' (COP) and the 'Conference of the Parties serving as the Meeting of the Parties to the Kyoto Protocol' (CMP), respectively.
Today (1 December 2008), the 14th COP and the 4th CMP starts in Poznań and will end with a high-level political segment on 11 and 12 December. In addition to plenary sessions discussing the implementation of the Convention, COP-14 will host a large number of side events, other meetings and exhibitions addressing a wide range of issues including deforestation in developing countries, technology transfer and impacts, vulnerability and adaptation.
Most importantly, the conference will continue to seek common ground for the post-2012 period. To this end, the conference will discuss a shared vision for long-term cooperative action on climate change, technology transfer, risk management and risk reduction strategies, adaptation and the Kyoto Protocol's Adaptation Fund. Next year's conference (COP-15) in Copenhagen, Denmark, is expected to seal a global deal on climate change action from 2012 onwards, when the first commitment period under the Kyoto Protocol expires.
EEA participation
During its side event, the EEA will present some of the findings from its report: 'Impacts of Europe's changing climate — 2008 indicator-based assessment'. The Agency will also be on site in Poznań to provide support to the European Community delegation in the discussions and negotiations.
Permalinks
Permalink to this version

Permalink to latest version

Topics