Figure
Nationally designated areas (CDDA), 2010 - site boundaries
Figure
Created 31 Aug 2012
Published 31 Aug 2012
Last modified 11 Sep 2015
This page was
archived
on
24 Mar 2015
with reason:
Other (New version data-and-maps/figures/nationally-designated-areas-cdda-2009-site-boundaries-4 was published)
The map is intended to show the distribution of site boundaries reported for nationally designated areas
/data-and-maps/figures/ga-downloads/8N7ZCT8TU9/nationally-designated-areas-cdda-2009-site-boundaries-1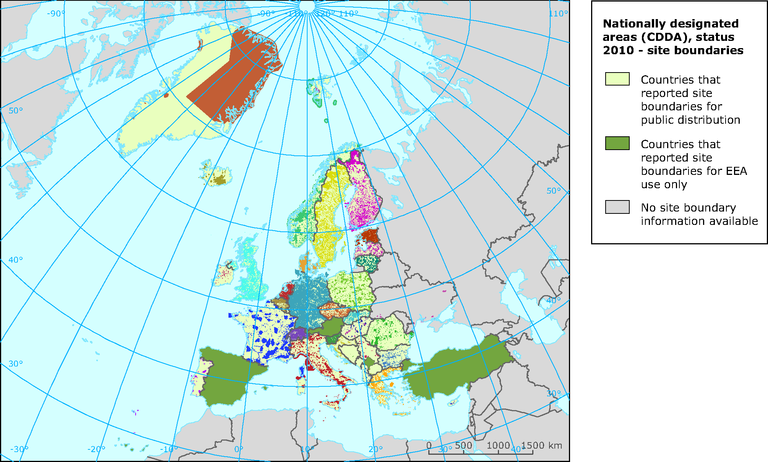 Download
Metadata
Additional information
The map should not be used for any purpose other than data quality documentation. It is expected that the data coverage will expand to more countries each year. Point locations are available for more than 75000 sites at: Distribution of CDDA points (map)
This information is from the European Common Database on Designated Areas established and managed collaboratively by the European Environment Agency, the UNEP-World Conservation Monitoring Centre and the Council of Europe, based on data provided by national sources.
Permalinks
Permalink to this version

Permalink to latest version
Geographic coverage
Topics