Growth of nationally designated protected areas in 39 European countries
Figure
expired
Created 12 Nov 2009
Published 12 Nov 2009
Last modified 11 Sep 2015
Note: new version is available!
This content has been archived on
19 Feb 2015
, reason:
Other (New version data-and-maps/daviz/growth-of-the-nationally-designated-1 was published)
How to read the graph: in 2007, the total number of sites for 39 European countries in the Common Database on Designated Areas (CDDA) was 76 876, with a combined surface of 994 550 km2
/data-and-maps/figures/ga-downloads/43E069FF-1FEB-4474-BA45-3C58EA11E263/growth-of-nationally-designated-protected-areas-in-39-european-countries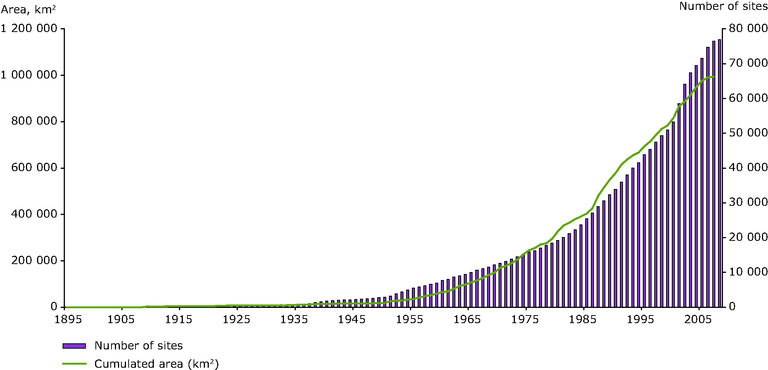 Download
European data
Metadata
Additional information
Country coverage: Albania, Austria, Belgium, Bosnia and Herzegovina, Bulgaria, Croatia, Cyprus, Czech Republic, Denmark, Estonia, Finland, France, Germany, Greece, Hungary, Iceland, Ireland, Italy, Latvia, Liechtenstein, Lithuania, Luxembourg, Macedonia - the former Yugoslavian Republic of, Malta, Monaco, Montenegro, the Netherlands, Norway, Poland, Portugal, Romania, Serbia, Slovakia, Slovenia, Spain, Sweden, Switzerland, Turkey and the United Kingdom. Overestimations may exist due to multiple designations for a single site but the overestimation may be offset by underestimation of the inventory because some national data sets are not complete.
Permalinks
Permalink to this version

Permalink to latest version