Figure
Consumption of ozone depleting substances (EU-27), 1989-2000
Figure
Created 12 Nov 2009
Published 12 Nov 2009
Last modified 26 Aug 2017
This page was
archived
on
26 Aug 2017
with reason:
A new version has been published
CFC: ChloroFuoroCarbon, HCFC: HydroChloroFluoroCarbon, CTC: CarbonTetraChloride; MCF: MethylChloroForm
/data-and-maps/figures/ga-downloads/1DA595F6-ED7E-4509-A6A7-BF18F320E781/consumption-of-ozone-depleting-substances-eea-31-1989-2000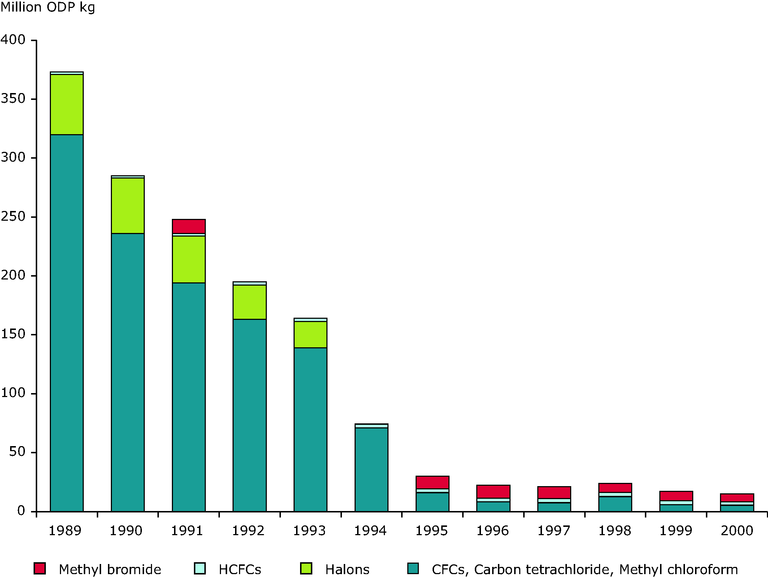 Download
European data
Metadata
Additional information
The data for the Accession countries and NIS before 1993 is incomplete: Data was not required to be reported for a number of species. DG ENVIRONMENT reports sales of ozone depleting substances (ODS) in the EU. UNEP reports consumption of ODS for all countries. Sales and consumption are considered the same here, as EU sales and UNEP consumption figures are generally consistent. Sales is defined as the actual sales in the EU, for dispersive uses, excluding sales to other EU based producer companies and sales within the EU between different branches of the same producer company.
Permalinks
Permalink to this version

Permalink to latest version
Geographic coverage

Topics