Figure
BOD5 concentrations in rivers between 1992 and 2008 in different sea regions of Europe
Figure
Created 02 Sep 2010
Published 20 Dec 2010
Last modified 26 Aug 2017
This page was
archived
on
26 Aug 2017
with reason:
A new version has been published
Geographical coverage: Atlantic Ocean, Baltic Sea, Black Sea, Mediterranean Sea and the North Sea.
/data-and-maps/figures/ga-downloads/RTP6V8V4CG/bod5-concentrations-in-rivers-between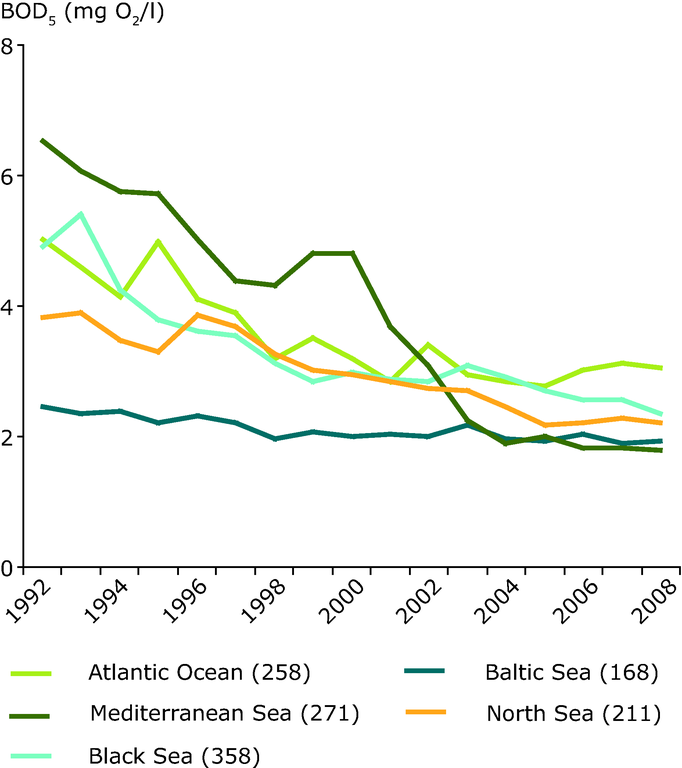 Download
European data
Metadata
Additional information
Concentrations are expressed as the average of annual mean concentrations. Up to 3-year gaps of missing values have been interpolated or extrapolated. Only complete series with no missing values after this interpolation/extrapolation are included. Number of river monitoring stations included in analysis per region and country within the corresponding region is noted in brackets. BOD7 data (Estonia, Finland, Lithuania (1996-2008), Latvia (1996-2001)) has been recalculated into BOD5 data
Atlantic Ocean (258): Spain (116), France (121), United Kingdom (15), Ireland (6);
Baltic Sea (168): Czech Republic (11), Denmark (12), Estonia (53), Finland (23), Lithuania (28), Latvia (39), Slovakia (2);
Black Sea (358): Austria (134), Bulgaria (39), Czech Republic (20), Hungary (98), Slovenia (16), Slovakia (51);
Mediterranean Sea (271): Albania (9), Bulgaria (46), Spain (111), France (90), FYR of Macedonia (9), Slovenia (6);
North Sea (211): Austria (11), Belgium (26), Czech Republic (39), Denmark (23), France (95), United Kingdom (14), Luxembourg (3).
BOD5:
Standard method for indirect measurement of the amount of organic pollution (that can be oxidized biologically) in a sample of water. BOD test procedure is based on the activities of bacteria and other aerobic microorganisms (microbes), which feed on organic matter in presence of oxygen. The result of a BOD test indicates the amount of water-dissolved oxygen (expressed as parts per million or milligrams per liter of water) consumed by microbes incubated in darkness for five days at an ambient temperature of 20°C. Higher the BOD, higher the amount of pollution in the test sample. For the contaminants that cannot be oxidized biologically, chemical oxygen demand (COD) method is used. Also called BOD5.


Permalinks
Permalink to this version

Permalink to latest version
Geographic coverage

Topics