Article
Noise pollution in the spotlight
Article
Published 15 Mar 2017
Last modified 11 May 2021
In April, the European Environment Agency will help raise awareness of the growing problem of noise pollution across Europe. We discussed with Colin Nugent, an EEA noise pollution expert, the very real health impacts of noise which are often underestimated.
Why is noise pollution so important?
If you were to talk to most experts about pollution they tend to point to air pollution, water or waste. Noise tends to be one of the forgotten pollutants. However, if you look at environmental surveys, you see that citizens bring it up. People can connect much more to noise as a pollutant because invariably almost everyone has experienced a noise problem. Although they may not be fully aware of the health impacts, they can hear it very clearly and they know they are annoyed by it. Exposure to noise generally raises your stress levels, it raises your 'fight-or-flight' instinct in terms of threatening noises like aircraft, or very busy highways near your home. If you are subjected to those noise levels on a long term basis, as many urban dwellers in Europe are, it has an impact. The hyper tension and stress caused by exposure to noise can cause cardiovascular disease, stroke and ultimately mortality. So without realising it, the health impacts of noise are very real. Considering how many people live in cities in Europe and how our cities are expanding and how our demand for transport, mobility, extra flights, is also growing, noise is becoming a major issue for all of us.
What are the top three noise emitters in Europe?
If you ask an average citizen on the street, they will tell you it's his or her next door neighbour's dog, or the neighbour's party on the weekend — a direct annoyance which effects your quality of life. People might not be completely aware that there is a major highway near their house; they hear it all the time, but they get used to it – it is background noise. But when we are looking at larger European Environment Agency assessments, the top emitter is our road transport network, followed by railways and aircraft noise. Aircraft noise tends to have more detrimental health effects than the others. However, the numbers of people exposed to aircraft are a good deal lower than they are for road traffic, because the road transport network is widespread, while airports are concentrated. Railway noise is also an issue but it tends to be more concentrated as well, and it can be easier to tackle. It's not the same in case of road transport. There are so many vehicles, maintenance is up to the owner and there are so many different standards in terms of vehicles.
What has the European Union done to address the problem?
The EU has a very challenging target in the 7th Environment Action Programme - that is to significantly reduce noise pollution by 2020. It also aims to draw closer to the World Health Organization standards, because there are considerable differences. The EU also has a significant amount of legislation in place, including the Environmental Noise Directive, which requires assessments done by noise mapping and action plans to be drawn up. This directive is designed to inform other pieces of legislation covering emissions from road vehicles, trucks, trains, and aircraft. The directive also sets a number of noise indicators to be applied in noise mapping. These indicators represent a physical scale for the description of environmental noise. The two most important are the day-evening-night indicator, designed to assess annoyance, and the night-level indicator (Lnight) which is designed to assess sleep disturbance. These indicators are to be applied to mapping exposure assessments beginning at 55 decibels (dB) for day exposure and 50 dB for night exposure.
What is the EEA doing in assessing noise pollution?
We use the data gathered from mapping to publish regular assessments. Our reports are designed to inform policy makers and to raise awareness of the problem. To mark this year's International Noise Awareness Day (26 April), we will publish a briefing with updated data on noise levels across Europe. The last report was published in 2014. This year is quite a big year for noise. The European Commission has decided to make it one of its key awareness raising initiatives for the year, to make Europeans aware of the problem of noise, what's being done and what needs to be done still to improve the acoustic environment in Europe. Our upcoming briefing coincides with the Noise in Europe conference in Brussels on 24 April, where our Executive Director will present our latest findings. Although we are getting new information all the time, we still have gaps in the data. The more complete data we have, the more we can improve our knowledge of the problem, and policy makers will be better informed to take better action.
What can citizens do to reduce exposure to noise?
We can certainly look at changing the way we do things, take for example electric vehicles. They give a very immediate benefit, not only for air quality but also for noise emissions. They are very quiet vehicles. When you drive on city streets, you are driving at such low speeds generally, that electric cars give a very real benefit in terms of reduced noise emissions. Europe also has a labelling system for road tyres. It informs the consumer not only about the energy efficiency of the tyre, its safety, but also about the noise emission of the tyre. So consumers can choose quieter tyres. There is also the 'Quiet mark' labelling scheme where consumers can choose to buy fridges and other appliances, or lawn mowers that have the quiet labels, for example.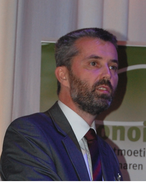 Colin Nugent
EEA noise expert
Interview published in the EEA Newsletter 01/2017, March 2017
Permalinks
Permalink to this version

Permalink to latest version
Geographic coverage

Topics