Article
Environmental spatial data: what is happening where?
Article
Published 12 Sep 2014
Last modified 11 May 2021
Photo: ©
Gülcin Karadeniz / EEA
When taken as a single variable, population density, transport infrastructure, soil types, land use and terrain characteristics, might tell only a part of the story. What links them together and allows us to get a better understanding of what is happening where? How does spatial data help improve Europe's environmental policies? We asked these questions to Stefan Jensen, who leads a group working on implementing the Shared Environmental Information System (SEIS) – with a focus on spatial reference data – at the European Environment Agency.
What is a spatial data? What does it tell us?
Almost all environmental data we have today can be classified as spatial data. Spatial data tells us what is happening where. Urban sprawl data could tell us how different urban areas have developed over time, how many people live in the area concerned, where the infrastructure is located, etc. Or in the case of flooding, we could see not only the size of the area that is affected, but also what is in that area. Does the area include towns, agricultural land, forests, etc.? Is it a highly populated area? Where can you be exposed to pollution?
It contains geospatial references, such as point coordinates or larger areas, but it actually includes many additional attributes. In this respect, spatial data provides the glue and the context of environmental information, essential for understanding and assessing what is happening.
In the case of floods, landslides or erosion, it is very important to have accurate and detailed spatial data to be able to be able to act quickly on the ground.
Where does it come from? What does the EEA do with it?
The data comes from a wide range of sources. Some come from satellite imagery, some come from our member countries and are linked to specific legislation and monitoring programmes on the ground. Others are collected by citizens using e.g. mobile phone applications.
To gather spatial data, the European Environment Agency works very closely with European and global partners, including those in our European Environmental Information and Observation Network (Eionet), and the Joint Research Centre and Eurostat.
We use these data sets in various ways. First, we use them for our own assessments of Europe's environment in form of reports, indicators, maps, etc. They are an important element of our daily work. Second, we publish them as data sets for others to use. All the data we publish online is free of charge and can be used by anyone. Many research institutes around the world use these data sets for their assessments.
How relevant is spatial data to policy making?
The European Union has a large body of legislation related and referring to the environment. Most require and rely on collecting and reporting spatial data. In that sense, spatial data is essential for environmental legislation. However, the data work actually does not end when required by legislation. In many cases, it starts there.
For the data to be relevant and usable, it needs to be comparable based on agreed standards. In particular, the data on the socio-economics of Europe, which is directly linked to the pressures on and responses to environmental issues, needs to fit in a coherent framework. There are EU initiatives aimed at addressing spatial data standardisation, interoperability and availability issues. For example, the EU's Inspire Directive aims at building an infrastructure for the spatial data held by public bodies.
When collecting environmental data, European countries might be using different parameters. Some are due to differences in the way countries transposed EU legislation into their national laws.
The selection of the most relevant parameters needs to be done in accordance with a logical framework. As in the case of 'flooded area' and 'population density' it is needed to understand who might be exposed to environmental damages. This might involve developing thematic data models, which address very concrete questions such as how deep the data should go or how many parameters it should consist of. The connections need to be useful.
This line of work – interoperability and standardisation and enhanced scale – will also help us improve environmental planning and impact assessments. There is a huge difference between 'there is a flood happening somewhere in Denmark' and 'there is a flood happening affecting these parts of Copenhagen, where given population density and elevation levels, this many people might be affected.'
What will spatial data look like in the future?
Recent technological developments, especially in digital mapping, remote sensing and imagery, mobile phones and apps, were a game changer for spatial data. I think the technology will continue to develop. And as a result, the availability and the quality of spatial data will increase. Already now I can navigate across borders and access some environmental information from a very detailed, local level to an overarching global level.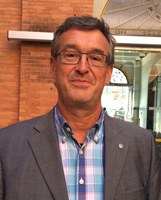 Stefan Jensen
Interview published in the issue no.2014/3 of the EEA newsletter, September 2014.
Permalinks
Permalink to this version

Permalink to latest version
Geographic coverage

Topics