Water scarcity
Page
Last modified 07 Nov 2018
This page was
archived
on
06 Nov 2018
with reason:
Content is outdated
Water scarcity occurs where there are insufficient water resources to satisfy long-term average requirements. It refers to long-term water imbalances, combining low water availability with a level of water demand exceeding the supply capacity of the natural system.
Although water scarcity often happens in areas with low rainfall, human activities add to the problems in particular in areas with high population density, tourist inflow, intensive agriculture and water demanding industries.
Losses of water in the supply network are often substantial in several water scarce regions in Europe. For example in France and Spain as much as 30 % and 24%-34 % of water is lost before it reaches the consumer.
In the future it is likely that predicted climate change will exacerbate this situation in the most water scarce parts of southern Europe. A combination of less precipitation and higher temperatures will further reduce the amount of water available and economic impacts may be high and affect several sectors. Low water availability and droughts have severe consequences on most sectors, particularly agriculture, forestry, energy, and drinking water providers. Activities that depend on high water abstraction and use, such as irrigated agriculture, hydropower generation and use of cooling water, will be affected by changed flow regimes and reduced annual water availability. A reduction in the amount of water aquatic ecosystems and groundwater may have huge environmental impacts. These impacts could range from too little water in rivers and lakes to achieve good status, and the drying out of wetlands to the, intrusion of salt-water into aquifer and less water to dilute inputs of pollutants.
Water availability
Overall, Europe uses a relatively small portion of its total renewable water resources each year. However, water availability per capita across Europe varies widely because water supply and people are unevenly distributed. Countries such as Iceland and Norway have plentiful supplies, while some of the highly populated EU25 countries including Germany, Poland, Italy, Spain and the southern UK, have the least available water per capita.
Water abstraction
Total water abstraction has remained largely constant since 1990 (Figure 1). In the North-western EU15 abstraction was reduced by 10% while the largest reduction (35 %-40 %) was in the Eastern-central countries. By contrast, in southern Europe abstraction increased by more than 15%, particularly in Turkey.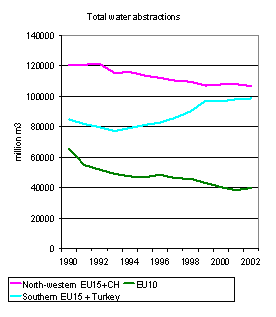 Figure 1: Change in total water abstraction in the period 1990-2004 (selected countries).
Source:
EEA CSI18
.
Note: Northern-western EU15+CH: Denmark; Germany; France; Netherlands;  Austria; Finland; Sweden; England and Wales; Switzerland;
EU10: Czech Republic; Estonia; Latvia; Lithuania; Hungary; Poland; Slovenia; Slovakia; Bulgaria;Romania;
Southern EU15+Tyrkey: Spain; Portugal; Greece; Turkey

Water-scarcity can be defined by the water exploitation index (WEI). Wei divides the total water abstraction by the long term annual average (LTAA) resource (Figure 2). The warning threshold, which distinguishes a non-stressed from a water scarce region, is around 20 %, with severe scarcity occurring where the WEI exceeds 40 %.
Nine European countries can be considered water-stressed: Cyprus, Bulgaria, Belgium, Spain, Malta, FYR Macedonia, Italy, UK, and Germany. In other words, 46% of the region's population live in places which are water-stressed. Most of the countries with high WEI have high abstraction for irrigated agriculture, although some countries have high abstraction rates for cooling water particularly in Germany, the UK, Bulgaria and Belgium.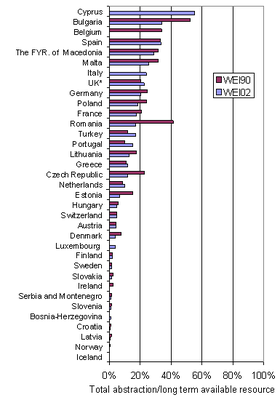 Figure 2: Water exploitation index. Total water abstraction per year as percentage of long-term
freshwater resources in 1990 and 2002.
Note: UK = England and Wales
Source: EEA CSI18 & Eurostat, 1992-2003
The WEI decreased in 19 out of 35 countries included in Figure 2 during the period 1990 to 2002. This change was, most marked in the central-eastern European countries, while in five  other countries – the Netherlands, UK, Greece, Portugal, and Turkey – WEI increased.

Nonetheless, it should be kept in mind that this index does not reflect the diverse situations that occur at regional or large river basin level. Regional analysis is therefore required to  get a more specified picture of the situation in terms of water scarcity.
In a recent study the EEA (2005) identified those regions in Europe facing water scarcity. These maps provide an overview of river basins that currently face high levels of water stress: mainly those in dry and irrigation-intensive river basins in Southern Europe and hot-spots around urban centres. Large parts of central Europe also have relatively high levels of water withdrawal compared with availability, but these often include large withdrawals for electricity production.
Even more detailed information is currently coming in from Member States' reporting under article 5 of the Water Framework Directive and from a questionnaire asking for information on water scarcity at river basin level. Initial analysis of these responses demonstrates that water scarcity is not just a Mediterranean problem but countries across the EU suffers to varying degrees. Only Austria and Finland saw themselves as not being affected at all by water scarcity. The available information shows that at least 10.4 % of the EU territory and 14.3 % of the EU population have been affected so far by water scarcity situations.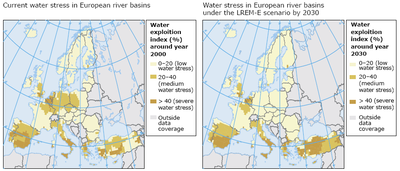 Source: EEA (2005)
Obviously there is a need for much improved information on the issue. In order to get a European overview of the severity of water scarcity it is necessary to:
ensure much better harmonisation of national data;
have a common definition of water scarcity for a more reliable calculation of the area and population affected.
To achieve this and to prepare an in-depth assessment of the issue of water scarcity by mid-2007 the Commission, supported by the EEA, is gathering more information from Member States. A Commission communication on the issue is expected in mid-2007.
Further information can be found at the Circa Water scarcity and drought library

Permalinks
Permalink to this version

Permalink to latest version
Topics