Briefing
What are the SDG-related structures and processes in Eionet countries?
Briefing
Published 02 Dec 2020
Last modified 02 Dec 2020
Photo: ©
Photo by Antoine Petitteville on Unsplash
Approaches to the governance of SDGs varies between Eionet countries.
Combining geographic scales of governance is common in SDG actions: 27 out of 39 countries (69 %) have adopted an approach that combines at least two spatial levels of governance. Of these 27 countries, 15 (38 %) combine national, regional and local levels of governance; 10 (26 %) combine national and local governance scales; and 2 (5 %) national and regional levels. A national approach has been adopted by 12 countries (31 %). 
Although there does not appear to be any correlation with the levels of SDG governance chosen by countries, there is convergence among countries in relation to SDG coordination, and mechanisms for tracking SDG progress.
Various working groups have responsibility for activities such as:
priority setting, for example by exploring the challenges the SDGs pose at the national level and their applicability to national circumstances (e.g. Cyprus, Norway); 
working to integrate SDGs into national policy and to ensure national strategic frameworks comply with the 2030 Agenda (e.g. Austria, France, Switzerland); 
coordinating implementation with relevant institutions at a range of scales from national to local and ensuring involvement of and dialogue with stakeholders (e.g. Belgium, Denmark, Latvia, Poland); 
setting up and updating SDG indicators, often through the inclusion of national statistical agencies (e.g. Estonia, Hungary); 
and national SDG reporting. 
Such groups are also important for providing leadership, high-level political support, and impetus, such as that provided by the Interministerial Conference on Sustainable Development. Other actions noted in countries include designating lead ministries or institutions to coordinate the SDG process, and conducting gap analyses or mapping [1] related to SDG actions at the national level.
Figure 4: SDG processes in Eionet countries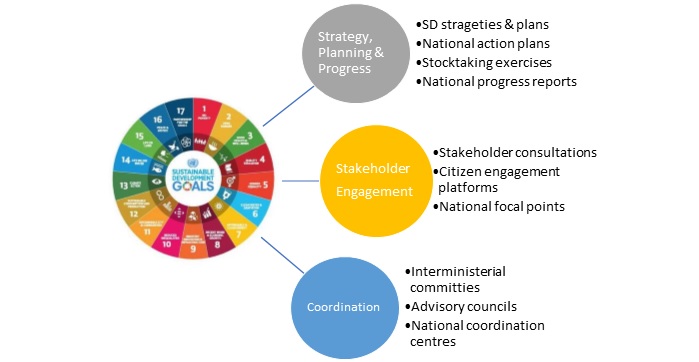 Source: EEA's own analysis.
Most Eionet countries have made efforts to align their existing indicator sets and underlying data to the UN's Global SDG indicator set. Some of these global indicators generally do not have readily available equivalent indicators at the national level. As a result, some countries have performed a mapping exercise to compare existing national indicators relevant to the SDGs and the UN SDG indicators, identify indicator and data gaps, and prepare plans to develop new indicators and collect missing data. Based on current VNR reporting, 37 out of 39 (95 %) Eionet countries already have or are developing national SDG indicator sets. At the European level, Eurostat have developed an EU SDG indicator set (UN, 2017b) which includes time-series data for 99 indicators across all 17 SDGs for all EU Member States.
In relation to national progress reporting, 19 (49 %) Eionet countries [2] are already producing regular national reports on their progress towards the SDGs. Some countries report on an annual basis, whereas others do so less frequently. National SDG progress reports usually build on the national SDG indicator sets.
In some cases, national SDG progress reports are produced at the same time as the VNRs. Despite shortcomings in the availability of data, some countries [3] acknowledged that the VNR process provided an important opportunity to reassess their existing national sustainable development priorities against the SDGs and to critically evaluate the current state of SDG actions.
There has been increased interest and steady progress in the number of Eionet countries submitting VNRs to the UN. To date, 37 countries have submitted a VNR: 8 countries [4] submitted their VNRs in 2016; 10 [5] in 2017; 12 [6] countries in 2018; and 7 countries [7] in 2019. Austria and Bulgaria submitted a VNR in 2020, whereas Switzerland (2016 and 2018) and Turkey (2016 and 2019) submitted two VNRs. Finland and Germany have also committed to submitting second VNRs in the future.
Many countries explicitly include stakeholders from outside government within Agenda 2030 working and advisory groups. Based on Eionet countries' VNRs, dialogue with stakeholders and their participation in prioritisation, decision-making and the implementation of SDGs is noted in 32 of the 39 countries analysed (82 %). It is likely that all countries are engaging stakeholders in some way even if this is not formally reported.
Stakeholders consulted on SDG policies and strategies include civil society, the private sector and public and academic institutions. Online stakeholder consultation platforms, to collect feedback from the public, and web-based SDG monitoring platforms, to disseminate information on progress towards the SDGs, have been developed in eight countries (21 % of the 39 analysed) [8].
Stakeholders are also important in the implementation of SDGs. Examples include voluntary commitments from civil society and businesses to support actions towards achieving  the Czech Republic 2030 framework (Office of the Government of the Czech Republic, 2017), and emphasis in Norway on scaling-up implementation and financing for Agenda 2030 through the active participation of the private sector.
Of the 39 countries analysed, 29 [9] (74 %) have set up interministerial bodies, advisory councils, commissions or working groups to coordinate SDG actions among their relevant institutions. In addition to government ministries and agencies, these groups often include other relevant stakeholders, such as regional and local governments, civil society and business associations. The remaining countries have established governance coordination within a specific national government department or agency.
Footnotes
[1] Belgium, Cyprus, Estonia, Finland, Greece, Italy, Latvia, Luxembourg, Portugal, Slovenia, Romania, Switzerland and Turkey.
[2] Austria, Belgium, Bulgaria, Cyprus, Finland, Greece, Germany, Hungary and Turkey.
[3] Belgium and Switzerland.
[4] Estonia, Finland, France, Germany, Montenegro, Norway, Switzerland and Turkey.
[5] Belgium, Cyprus, Czechia, Denmark, Italy, Luxembourg, Netherlands, Portugal, Slovenia and Sweden.
[6] Albania, Greece, Hungary, Ireland, Latvia, Lithuania, Malta, Poland, Romania, Slovak Republic, Spain and Switzerland.
[7] Bosnia and Herzegovina, Croatia, Iceland, Liechtenstein, Serbia, Turkey and the United Kingdom.
[8] Cyprus, Czechia, France, Luxembourg, Netherlands, Poland, Portugal and Switzerland.
[9] EEA member countries: Albania, Austria, Belgium, Croatia, Cyprus, Czechia, Denmark, Estonia, Finland, France, Germany, Greece, Latvia, Liechtenstein, Lithuania, Luxembourg, Malta, Netherlands, Norway, Portugal, Romania, Serbia, Slovak Republic, Slovenia, Sweden, Switzerland and Turkey. EEA cooperating countries: Albania and Serbia
.
Permalinks
Permalink to this version

Permalink to latest version
Geographic coverage
Temporal coverage
Dynamic

Topics