Taking a broader perspective: the knowledge-sharing community
Page
Last modified 03 Dec 2019
Producing a well-informed and credible State of the Environment (SoE) report requires insights on the latest policy, scientific, socio-economic and environmental developments. Reports must be well prepared and cohesive in scope, content and methodology.
Sharing experiences and learning from other institutions that produce SoE reports has proven very valuable at both national and European level. The National Reference Centre (NRC) SoE provides a platform for countries and the European Environment Agency (EEA) to share knowledge and lessons learned in respect of SoE reporting. The NRC-SoE is part of the European Environment Information and Observation Network (Eionet), a partnership network of the EEA and its 39 members and cooperating countries. Eionet provides timely and quality-assured data, information and expertise for assessing both the state of the environment in Europe and relevant pressures and driving forces. This helps policy makers to decide the appropriate national and European measures to protect the environment, and to monitor the effectiveness of existing policies and measures.
The NRC-SoE involves experts from all 39 Eionet countries and the EEA. One of its tasks is to provide support and national-level input to the EEA's 'European environment — state and outlook (SOER)' report series. It also works to strengthen the current knowledge base on State of the Environment reporting and to improve coherence across SoE reports by establishing a common understanding of key theories, concepts and approaches in the field of integrated environmental and sustainability assessments. As policy needs in this field are quickly evolving, the NRC-SoE acts as a community of practice, enabling experts to stay up-to-date by sharing scientific advances, successful practices and innovative concepts covering the content, communication and cooperation aspects of SoE reporting (see figure below).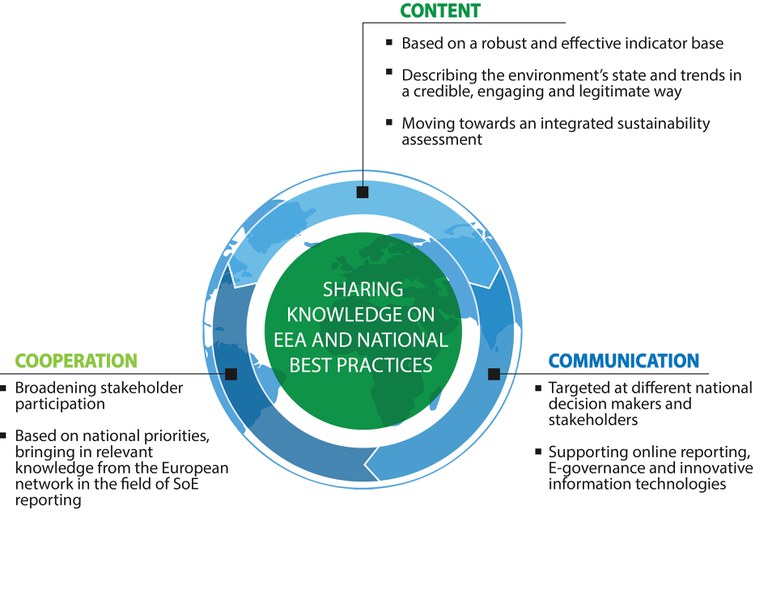 The NRC-SoE is designed to enhance critical reflection and develop key competences within a vibrant and collaborative community of practitioners. Key features include:
Webinars present recently published national SoE reports. These webinars present the innovative aspects of SoE reports, share insights on their process and content, as well as cover the interaction with stakeholders in the assessment process and communication activities once the report is published.
When we invited the NRC-SoE colleagues to York in 2018, we were very interested to hear their feedback on our newly developed outcome indicator framework to monitor progress with the 25 Year Environment Plan for England, which our government had published earlier that year.

 

Martin Fowell, UK NFP and NRC-SoE
Summer and winter schools target SoE experts from the 39 Eionet countries. The summer school also targets practitioners from the EU Eastern Neighbourhood such as Armenia, Azerbaijan, Belarus, Georgia, Moldova and Ukraine. By involving the NRC-SoE knowledge network, the 3-day seminars incorporate the most successful practices and innovative concepts available at the EEA and in the Eionet countries.
Annual meetings provide the opportunity to share knowledge of SoE reporting and associated integrated assessment processes. These meetings are often organised by a country, giving the host the opportunity to brief other national experts on their most recent developments. Experts are then asked to reflect on the new concepts, frameworks and findings presented. Another element of the annual NRC-SoE meetings is the focus on sharing innovative practices, such as the workshop organized by Swiss experts on innovative ways to involve societal stakeholders and key actors, based on their experiences with the launch of their 'Environment Switzerland 2018' report.
As a community of practitioners, the NRC-SoE aims to share knowledge, develop key competences and identify innovative approaches in the field of SoE reporting. For the experts involved, this means sharing information on topics such as: developing and maintaining effective indicators based on a robust evidence base that also take into account new data sources; incorporating emerging themes like circular economy and (micro) plastics; encompassing integrative concepts, such as the Sustainable Development Goals and long-term systemic sustainability challenges; and safeguarding an effective connection to national decision makers.
In the 2019 Mechelen meeting, we asked our NRC-SoE colleagues to reflect on the wider applicability of a set of potential levers identified in our latest report to bring about the transition to a more sustainable Flanders.

Marleen van Steertegem, Flanders NRC-SoE
Permalinks
Permalink to this version

Permalink to latest version
Geographic coverage

Topics