Dashboard (Tableau)
National policies and measures on climate change mitigation in Europe
Dashboard (Tableau)
Published 07 Dec 2018
This page was
archived
on
27 Nov 2019
with reason:
Other (New version themes/climate/national-policies-and-measures/national-policies-and-measures-on-1 was published)
How many policies and measures (PaMs) did the European Member States implement or plan to implement to reduce greenhouse gas emissions? What type of policies, affecting which sectors have been primarily reported? Were the European Union policies driving the development of national policies? The European Environment Agency's viewer explores PaMs reported by Member States under the EU Monitoring Mechanism Regulation.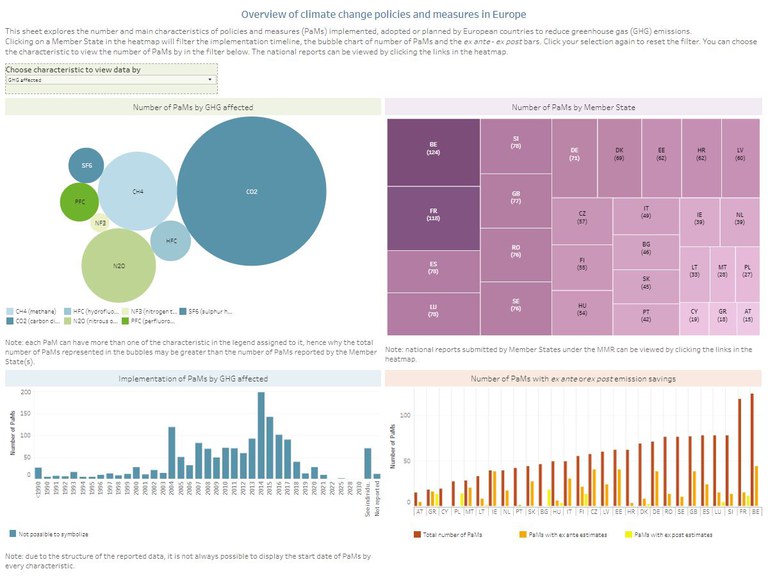 More information
Member States report main characteristics of the PaMs, such as a description, objective, type, status, sectors, related EU policies etc. Where available, Member States report quantitative information on the GHG emission savings of the PaMs, both ex ante (future looking) and ex post (retrospectively), as well as the projected and realised costs and benefits. Reported information is checked by the European Environment Agency and its European Topic Centre on Climate Mitigation and Energy. Three sheets: 'Overview','Reported expected effects' and 'Reported achieved effects' allow users to understand more about the national climate change mitigation PaMs.
Permalinks
Permalink to this version

Permalink to latest version
Geographic coverage
Topics
Tags