Article
Secure, affordable, and clean energy in times of crisis?
Article
Published 28 Nov 2022
Last modified 06 Dec 2022
Photo: ©
Dario Landi, Climate Change PIX /EEA
Europe is meeting a growing share of its energy needs through renewable sources but is also still dependent on oil and gas. With rapidly changing energy prices, concerns over keeping homes warm this winter and the commitment to reduce greenhouse gas emissions, there is a need to save energy, diversify its sources, accelerate the shift to renewables and support those who are most vulnerable.
The human tragedy caused by Russia's invasion of Ukraine shocked the world and upended the lives of millions of Ukrainians. The human costs of war are immeasurable and grow with each passing day. In the wake of the first shock, also other impacts started emerging. The threat to Europe's steady and affordable supply of energy is one of them.
Many aspects of our lives depend on energy. We use energy to heat our homes, cook our meals and move goods and people. Energy security is essentially about having enough energy continuously available for our current and future use.
Living through another energy crisis?
Having access to enough energy does not necessarily mean being able to afford it. Families and communities can experience 'energy poverty'. In an EU-wide survey in 2020, 8% of the population said that they were unable to keep their homes adequately warm.
According to Eurostat, in January 2022, the annual inflation rate for energy in general was 27% in the EU. The price of natural gas was 40% higher than in January 2021. Some countries felt this gas price hike more severely than others: prices increased by 67% in Belgium and 58% in the Netherlands. Many countries have set up subsidy schemes to lower energy bills. At the same time, such subsidies should not remove incentives to save energy. 
Taking short-term action to support long-term sustainability
The geopolitics of energy have shaped history before. The oil shocks of the 1970s, in which major oil producing countries cut exports for economic and political leverage, caused shifts in world politics and global energy production and markets. Countries took short-term measures to ban flying or driving on certain days, some invested in cycle paths to reduce the demand for oil, and others diversified the source of their imports or extracted oil and gas from new reserves.
The war in Ukraine may trigger an equally major shift in Europe's energy system. Only 2 weeks after the start of the Russian invasion, EU leaders came together in Versailles, France, and agreed to reduce Europe's energy dependencies. They called for a reduction in Europe's reliance on fossil fuels while speeding up the development of renewables and enhancing energy efficiency.
The need to find a path to a low-carbon energy system for Europe is urgent. The REPowerEU plan, proposed by the European Commission in May 2022, aims to urgently transform Europe's energy system to end dependence on Russian fossil fuels and speed up climate action. Key measures of the plan include saving energy, diversifying energy supplies, having potential contingency measures to control demand, and accelerating the roll-out of renewable energy to replace fossil fuels in homes, industry and power generation.
Saving energy is immediate and effective
The REPowerEU plan proposes a comprehensive approach, covering diversification of energy supplies as well as accelerating the transition to a renewable energy system but the plan also puts extra emphasis on another aspect vital to tackling the current crisis: energy efficiency. To this end, the European Commission has proposed to strengthen long-term energy efficiency measures, including an increase in the binding energy efficiency target from 9% to 13%.
The Commission has also called for Member States to start specific public campaigns to save energy in homes and in workplaces. If successful, these campaigns could cut gas and oil demand by 5%, according to the Commission. Member States are also encouraged to promote energy savings, for example through reduced taxes on energy-efficient heating systems and appliances and on building insulation.
More recently, new steps were proposed by the Commission in the context of the 2022 State of the Union address. The proposals include reducing electricity consumption, especially during selected peak hours, revenue caps on producers, solidarity contributions from the fossil fuel industry and price regulation.
The cheapest and cleanest type of energy is the one we do not use or produce. The less energy we use, the easier it is to produce it from renewable sources. And the less we need fossil fuels, the less we need to import them and the more we can cut greenhouse gas emissions and air pollution.
What are some of the ways everyone can save energy?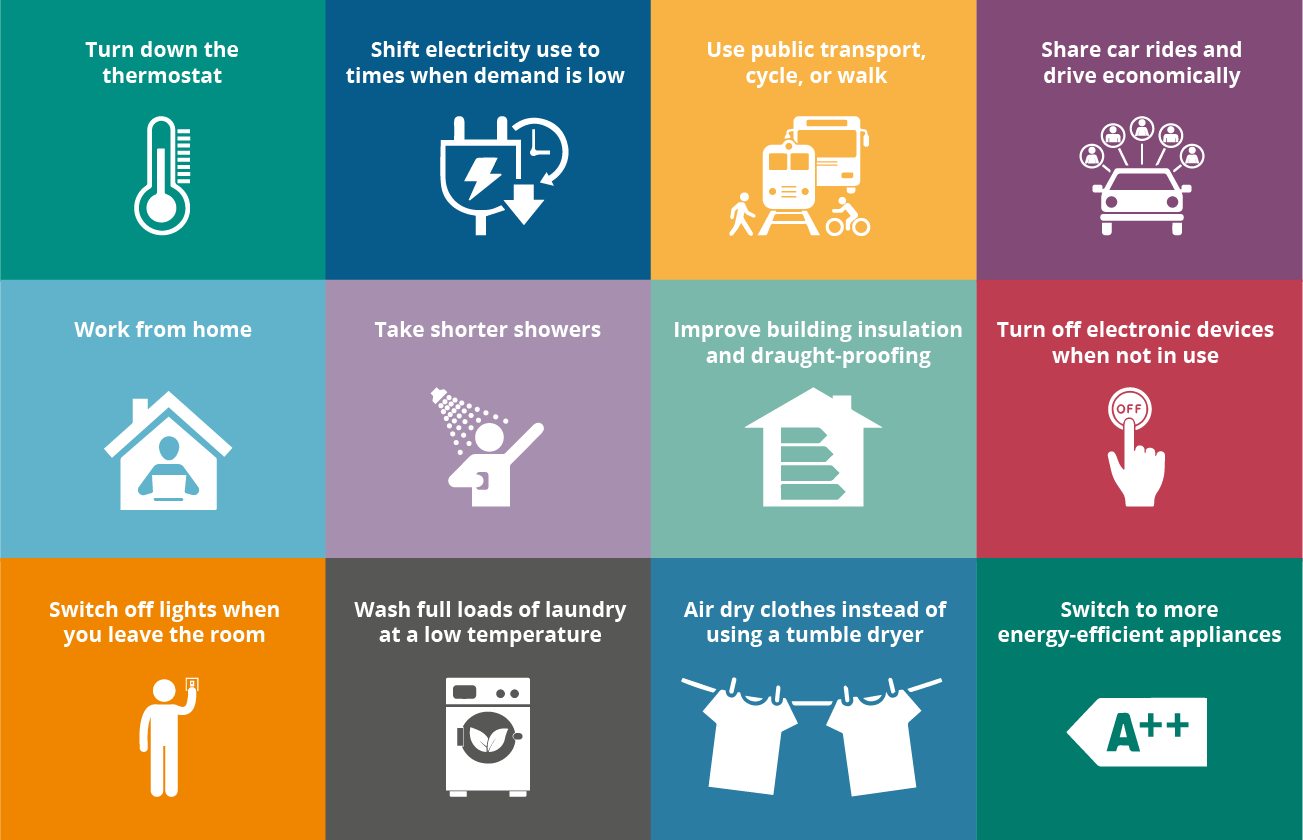 Permalinks
Permalink to this version

Permalink to latest version
Geographic coverage