EEA Annual Work Programme 2015
Publication
Created 04 Feb 2015
Published 04 Feb 2015
Note: new versions are available!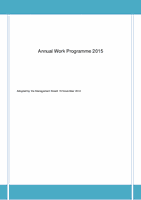 Publication
Created 04 Feb 2015
Published 04 Feb 2015
Corporate document No 1/2015
In line with its Multiannual Work Programme 2014-2018, the EEA, according to its mission, aims to support sustainable development and to help achieve significant and measurable improvements in Europe's environment, through the provision of relevant, reliable, timely, and targeted information to policy-making agents and the public. The Annual Work Programme 2015 will continue many lines of work from previous annual work programmes along with some new emphases.
Download
Additional Files
Permalinks
Permalink to this version

Permalink to latest version
Geographic coverage

Tags