News
Executive Director welcomes Slovak President Čaputová to EEA
News
Published 11 May 2021
Last modified 18 May 2021
European efforts to tackle climate change, air pollution and achieving carbon neutrality were the main issues discussed during a visit of President Zuzana Čaputová of Slovakia to the European Environment Agency (EEA) on Tuesday (11 May 2021).
EEA Executive Director Hans Bruyninckx welcomed President Čaputová and her delegation, which also included Andrej Doležal, Slovakia's Minister of Transport and Construction. The Executive Director thanked the President for Slovakia's strong commitment to the EU's environmental goals and explained how the EEA is working to provide reliable data and information to policymakers — specifically in supporting the European Green Deal and accompanying legislation, which aims to shift Europe towards a sustainable, low-carbon future.
"Despite the huge health and economic impacts of the COVID-19 pandemic, (Slovakia and all other) EU Member States remain committed to the European Green Deal goals. These goals have proved to be COVID resilient and the EEA will continue to do its part to help stay on course ensuring we shift to a low-carbon future by 2050 and a resilient and healthy society built on solidarity and well-being for all of us," said Hans Bruyninckx.
This green transition cannot happen without scientific information, facts and data. We need to collect and analyse them. And we need to understand them. This is where the work of the European Environment Agency is so important.

President Čaputová
During her visit, President Čaputová also met with Slovak staff working at the Agency. The EEA currently employs over 230 staff from across its 32 member countries.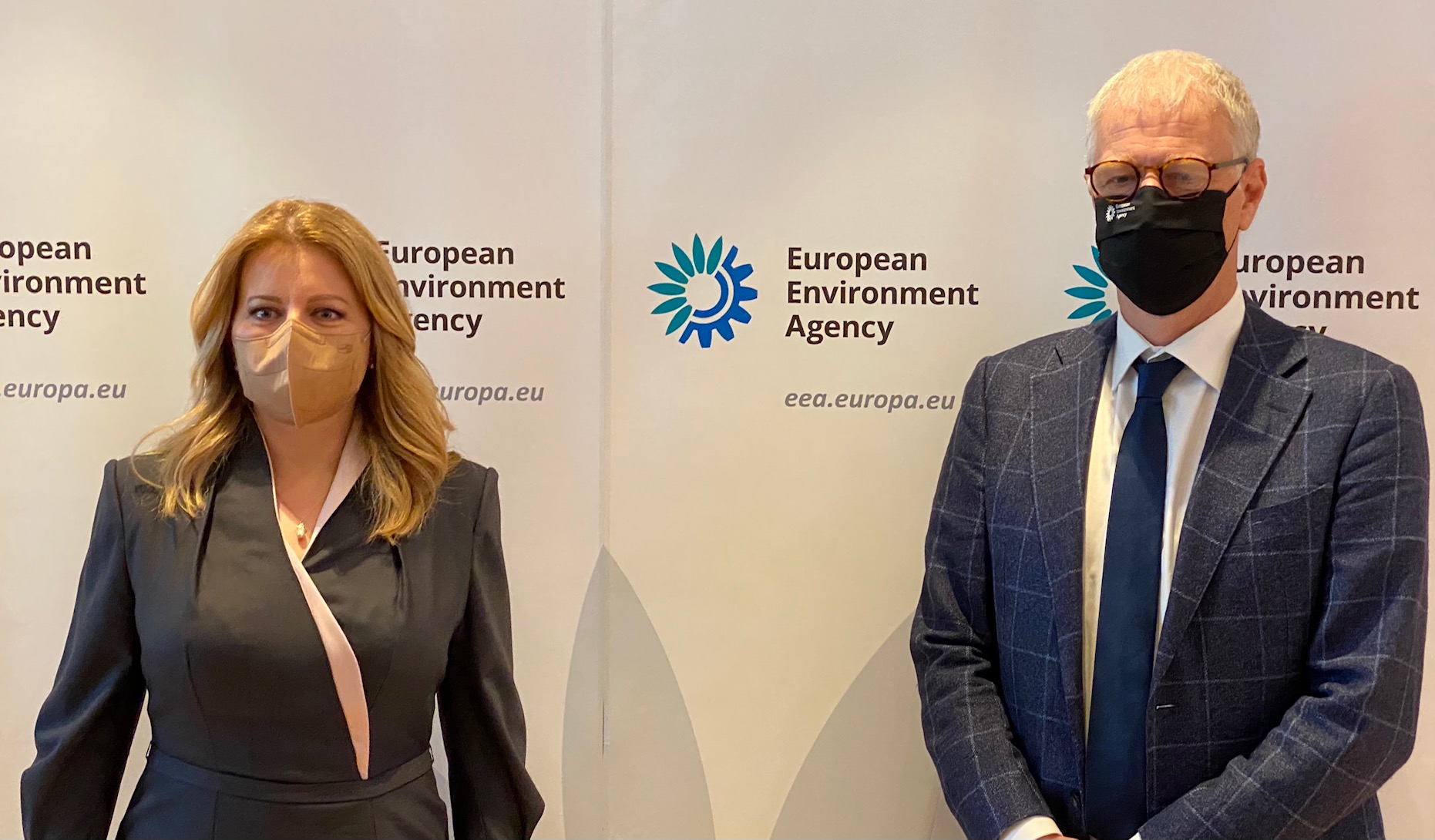 Slovak President Zuzana Čaputová and EEA Executive Director Hans Bruyninckx at the European Environment Agency.  
Permalinks
Permalink to this version

Permalink to latest version
Geographic coverage

Topics