News
Check out Europe's 'Urban Atlas'
News
Published 15 Apr 2010
Last modified 20 Feb 2017
How densely populated is your city? Where are the green areas and transport networks? The European Environment Agency (EEA) now hosts detailed maps and land cover information for the 117 European cities currently included in the new 'Urban Atlas'.
Europe's urban areas, which accommodate more than three-quarters of the region's population, have grown rapidly in recent decades. City centres and the wider surroundings have been transformed. The Urban Atlas provides a means to monitor and interpret these changes. Developed as a land monitoring project under GMES (Global Monitoring for Environment and Security), the Urban Atlas is a digital mapping tool providing pan-European, reliable and inter-comparable urban planning data with high-resolution maps.
The Urban Atlas brings together thousands of images from European satellites and provides detailed and cost-effective mapping of larger urban zones, yielding accurate land cover and usage data. In its initial stage, 117 European cities are included in the Urban Atlas but this will rise to more than 300 by early 2011. Future editions of Urban Atlas are planned every three to five years, communicating on the evolution of cities.
The data sets and maps can be downloaded from the EEA Urban Atlas website. Additionally, the maps can also be seen through a map viewer, which will be gradually improved.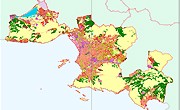 Some of the Urban Atlas maps will also form part of an exhibition from 15 to 30 April at the European Commission Headquarters in Brussels, Belgium.
About GMES
GMES establishes a European capacity in the increasingly important field of Earth Observation. The main aim of the initiative is to monitor and better understand our environment (land, marine and atmosphere) and to contribute to the security of every citizen.
Permalinks
Permalink to this version

Permalink to latest version
Geographic coverage

Topics