index_html
Page
Last modified 03 Jun 2016
Archive
Featured article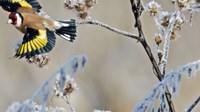 The stakes have never been higher. Our planet is warming and losing species at an alarming rate. Two global conferences over the past two months brought people from across the world around a common ...
Europe: A continent of diversity
Test your knowledge.
Who has walked here?

A dog
A sheep
A moose

New roads can divide and fragment wild animals' living areas. How many kilometres of new motorways are expected to be built in Europe over the next decade
120 km
1,200 km
12,000 km

Which of these animal species is endangered?
European otter
Moose
Reindeer

What percentage of Europe's freshwater fish species is currently endangered?
12%
32%
52%

Which of the nuts below grows up to be an oak tree?


Sciurus vulgaris is the Latin name for a
Toad
Red squirrel
Salmon

How many plant species are there in Europe?
1,000
10,000
100,000

The EU aims to halt the loss of biodiversity in Europe by the year...
2010
2050
2100

How much of Europe is cover by forest?
3%
30%
60%

Why don't polar bears eat penguins?
They're vegetarians
One species lives in the Artic and the other in the Antarctic
Penguins are faster swimmers

The tomato is the same plant family as one or more of these other plants. Which one/s?
Potato
Chilli peppers
Tobacco

Permalinks
Permalink to this version

Permalink to latest version