Figure
Winter orthophosphate concentrations in European seas in 2010
Figure
Created 07 Sep 2012
Published 26 Mar 2013
Last modified 26 Aug 2017
This page was
archived
on
26 Aug 2017
with reason:
A new version has been published
The map shows the winter orthophosphate concentrations in the European coastal and open waters in 2010. The low category refers to values within the lowest 20th percentile and the high category refers to values within the upper 20th percentile of concentrations in a regional sea.
/data-and-maps/figures/ga-downloads/C9CE0AA1-930C-40D6-BF42-4D30734C58ED/map-of-winter-orthophosphate-concentrations-observed-in-1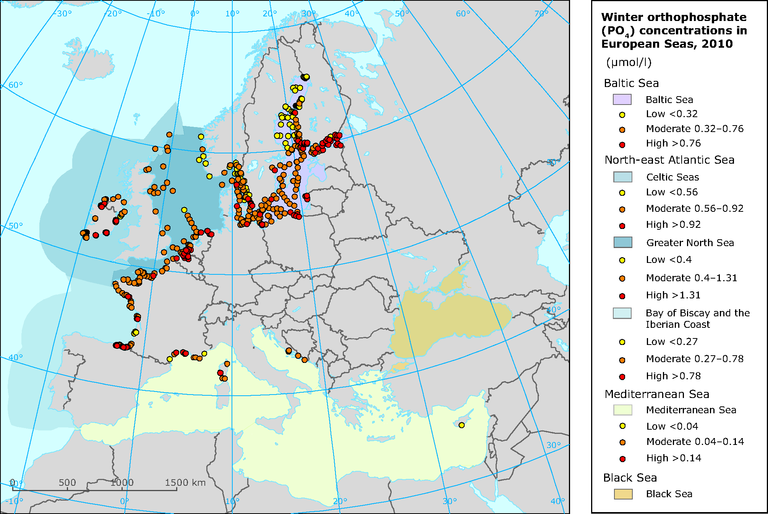 Download
European data
Metadata
Additional information
Based on the EIONET WISE SoE TCM data reported to EEA. In 2010, data suitable for the indicator were only reported from very few stations in the Mediterranean and from no stations in the Black Sea.
The used regional and subregional seas of Europe are in line with the geographical regions and sub-regions specified in the Marine Strategy Framework Directive (MSFD). Other European Seas (Icelandic Sea, The Norwegian Sea, the Barents Sea and the White Sea) are not covered herein due to lack of data.
Permalinks
Permalink to this version

Permalink to latest version
Geographic coverage