Figure
Emission trends of acidifying pollutants (EEA member countries, EU-27)
Figure
Created 15 Oct 2010
Published 25 Oct 2010
Last modified 26 Aug 2017
This page was
archived
on
26 Aug 2017
with reason:
A new version has been published
This chart shows past emission trends of nitrogen oxides (NOx), sulphur oxides (SOx) and ammonia (NH3) in the EEA-32 and EU-27 group of countries. In addition - for the EU-27 - the aggregated Member State 2010 emission ceilings for the respective pollutants are shown
/data-and-maps/figures/ga-downloads/8432B4A6-4604-4602-94C6-D43AB1DE9DD4/emission-trends-of-acidifying-pollutants-eea-member-countries-eu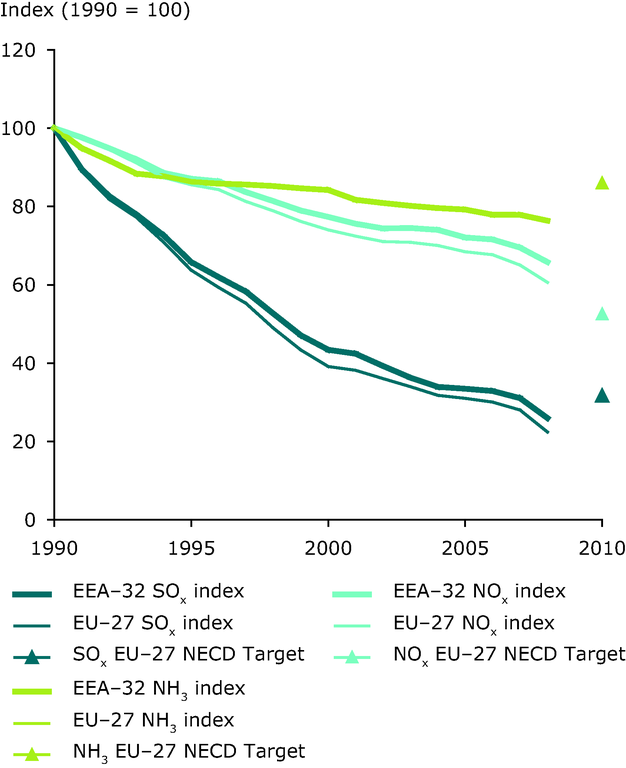 Download
European data
Metadata
Additional information
Where countries have instead reported business as usual or current legislation projections, it is assumed for comparison purposes that these are equivalent to a WM projection. The with additional measures projections reported by Member States take into account additional future planned policies and measures but which are not yet implemented.
Permalinks
Permalink to this version

Permalink to latest version
Geographic coverage

Topics