Figure
Annual aquaculture production by major area (EU-15 + EFTA and EU-10 + AC + Balkans), 1990-2001
Figure
Created 12 Nov 2009
Published 12 Nov 2009
Last modified 26 Aug 2017
This page was
archived
on
26 Aug 2017
with reason:
A new version has been published
Aquaculture production includes all environments i.e
/data-and-maps/figures/ga-downloads/1DA30184-A0FA-467B-B614-3FE65CDB433C/annual-aquaculture-production-by-major-area-eu-15-efta-and-eu-10-ac-balkans-1990-2001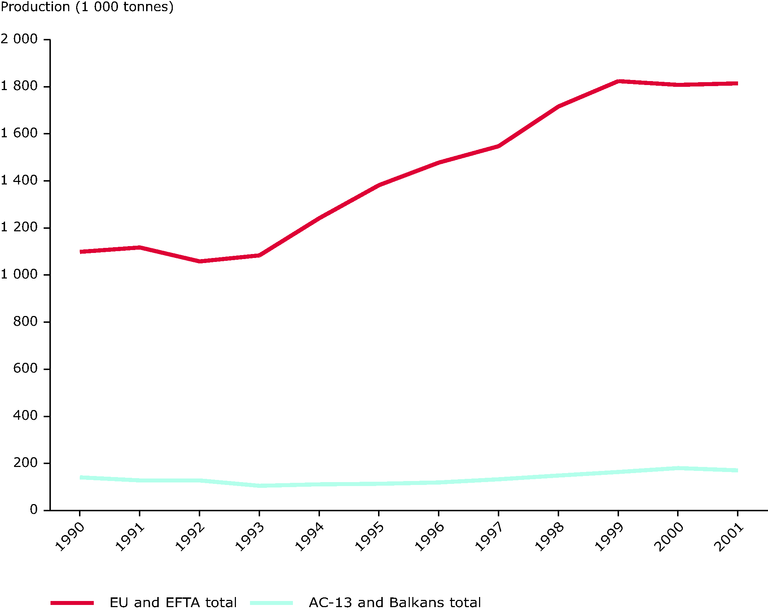 Download
European data
Metadata
Additional information
marine, brackish and freshwater. EU-15 + EFTA: Austria, Belgium, Denmark, Finland, France, Germany, Greece, Ireland, Italy, Netherlands, Portugal, Spain, Sweden, UK, Iceland, Norway and Switzerland. EU-10 + AC + Balkans: Albania, Bulgaria, Czech Republic, Croatia, Estonia, FYR Macedonia, Hungary, Latvia, Lithuania, Poland, Romania, Yugoslavia, Slovak Republic, Slovenia, Cyprus, Malta and Turkey. Luxembourg, Liechtenstein and Bosnia-Herzegovina, are not included due to either no aquaculture production or lack of data.
Permalinks
Permalink to this version

Permalink to latest version
Geographic coverage