Air pollution - State and impacts (Turkey)
SOER 2010 Common environmental theme (Deprecated)
This page was
archived
on
21 Mar 2015
with reason:
A new version has been published
Air pollution - State and Impacts ( Turkey)
Topic

Air pollution
Published: 26 Nov 2010 Modified: 11 May 2020
Air pollution is one of the most significant problems in Turkey likewise other countries. The main reasons for this could be summed up as; rapid increase of population, energy consumption due to industry and housing and increasing fuel demand for vehicles.
Trends in sulphur dioxide and particulate matter concentrations in some metropolitan cities of Turkey are given above. While these graphics are examined, in general, decrease in the major pollutants has been observed.
Trends in reducing annual average concentrations of SO2 and particulate matter (PM10) in cities showed overall progress between 2002 and 2008. In cities such as İstanbul, Ankara, Gaziantep, Samsun, Sivas and Diyarbakir pollutant concentrations decreased, particularly during winter seasons, in some cities from levels over 260 μg/m3. This progress reflects major changes in energy supply for domestic heating, with i) natural gas substituting for coal in a number of cities and ii) prohibition of the use of high-sulphur coal in 2005. Average annual concentrations of SO2 and PM10 are below the long-term target limit value.
However, in cities where industry has continued to expand (e.g. Bursa, Denizli, Kayseri and Kütahya), SO2 and PM10 concentrations have not decreased. Average winter concentrations have exceeded long-term target limit value, and average concentrations of SO2 and PM10 have remained above the WHO guideline of, respectively, 20 and 50 μg/m3.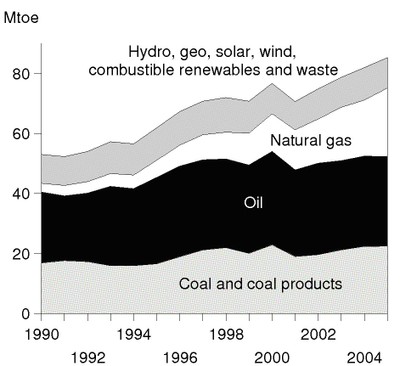 Permalinks
Permalink to this version

Permalink to latest version

Topics