Global governance — the rise of non-state actors
Publication
Created 27 May 2011
Published 23 Jul 2011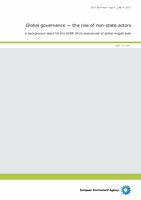 Publication
Created 27 May 2011
Published 23 Jul 2011
Technical report No 4/2011
A background report for the SOER 2010 assessment of global megatrends.
Download
Order information
Order a printed copy on the EU Publications website
Global environmental politics and governance is in a state of gradual yet profound change. Ever since the creation of an international environmental agenda in the early 1970s, states and intergovernmental institutions have been at the centre of global governance. Starting in the 1980s and accelerating in more recent years, however, global governance has become increasingly transnationalised, meaning that it involves a growing number of non-state actors operating at different levels, from the local to the regional and global. Key drivers of this change include economic globalisation, technological change, the growing imbalance in information held by state and non-state actors, and evolving concepts of governance.
Additional Files
Permalinks
Permalink to this version

Permalink to latest version
Geographic coverage