EMEP/EEA air pollutant emission inventory guidebook - 2013
Publication
Created 22 Aug 2013
Published 29 Aug 2013
Note: new versions are available!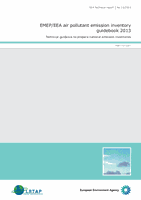 Downloading:

1. EMEP-EEA air pollutant emission inventory guidebook - 2013.pdf
— PDF document, 729 KB (746876 bytes)
Publication
Created 22 Aug 2013
Published 29 Aug 2013
Technical report No 12/2013
Technical guidance to prepare national emission inventories. The joint EMEP/EEA air pollutant emission inventory guidebook supports the reporting of emissions data under the UNECE Convention on Long-range Transboundary Air Pollution (CLRTAP) and the EU National Emission Ceilings Directive. It provides expert guidance on how to compile an atmospheric emissions inventory. The Guidebook is published by the EEA with the CLRTAP Task Force on Emission Inventories and Projections responsible for the technical content of the chapters.
Download
Order information
Order a printed copy on the EU Publications website
This report and the related files are also available in Russian.
Additional Files
Permalinks
Permalink to this version

Permalink to latest version
Geographic coverage