News
Saturday night fever can be fatal
News
Published 16 Sep 2004
Last modified 28 Jun 2016
European Mobility Week 2004 is running from 16 to 22 September with 'Safe streets for children' as its central focus. Over 340 towns and cities in 35 countries are participating, with 950 organising an 'In town without my car' day during Mobility Week to encourage citizens to try alternatives to driving. Information prepared for the EEA's latest report on transport and environment, due out next month, shows that Saturday night is the most dangerous time of the week for young people on the roads.
Road accidents are the main cause of death for young people. Youth and lack of driving experience are two significant determinants of the accident risk. Most of the 15-24 year olds killed in traffic (over 10 000 in the EU-15 in 1998) die within one year of obtaining their driving licence. This crash risk rises with alcohol consumption.
Spain and France show big increases in road deaths at times of the week when people go out most, and this applies to a certain extent across the whole of the EU. Improving the behaviour of young people can make a major contribution to improving road safety, especially if combined with action to enforce traffic rules.
Number of people aged 18-25 killed in road accidents, by day of the week and time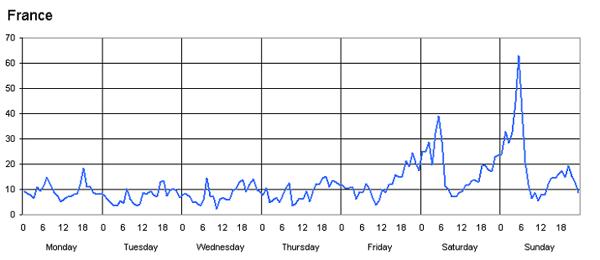 Source : CARE, 2004
This information forms part of the background material drawn upon in the forthcoming EEA report 10 key environment issues for transport policy makers: TERM 2004, to be published next month
Key links
EEA transport pages:
http://themes.eea.eu.int/Sectors_and_activities/transport
European Mobility Week 2004:
http://www.mobilityweek-europe.org/index_en.php
Permalinks
Permalink to this version

Permalink to latest version