News
Heatwaves, floods and droughts in Europe
News
Published 07 Aug 2003
Last modified 28 Jun 2016
Currently much of Europe is drying up in a heatwave, but one year ago the problem was too much rain as parts of central Europe suffered serious flooding.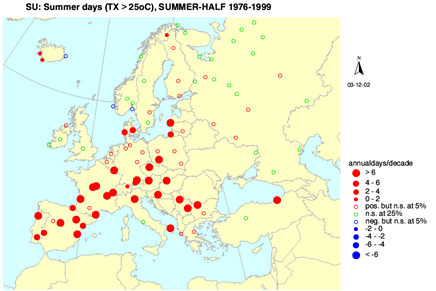 Figure 1: Trend in summer days in Europe
Source: ECA, 2002 (KNMI)
Note: Changes in number of summer days per year, for the period 1976-1999

Summer days are days at which the maximum temperature is above 25 °C. The map shows the increase in the number of summer days per year, in the last 25 years, and is expressed in number of days per decade. Clearly, large parts of Europe experienced an increase of more than 6 days in the number of summer days (hence, and increase of 15 or more days since 1976). Regions that have relatively many days per year near 25 °C maximum temperature have largest sensitivity for changes; other regions are less sensitive. This explains why e.g. northern Scandinavia show little increase in the number of summerdays (most often, maximum temperatures are well below 25 °C).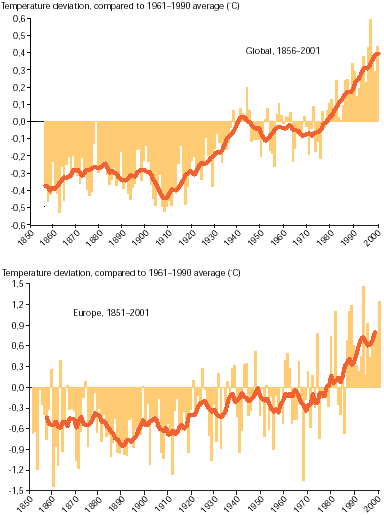 Figure 2: Observed annual average temperature deviations (global and European)
Source: Climatic Research Centre (CRU)
Note: The bars show the annual average and the line the 10-year smoothed trend. Europe includes Siberia.

Over the past 100 years European (including Siberia) mean temperature has increased by about 1.2 °C and the 1990s was the warmest decade over the past 150 years. There is increased evidence that most of this warming can be attributed to the emission of greenhouse gases from human activities. The flooding in central Europe in 2002 can be considered an example of what may happen if climate change continues.

Global precipitation increased by about 2 % during the last century, with northern Europe and the western part of the Russian Federation getting 10–40 % wetter with a further projected increase of 1–2 % per decade. In southern Europe and most of the countries of eastern Europe precipitation in summer is projected to decrease by up to 5 % per decade, while the winters may become wetter.

Read more about the causes, the possible consequences, and the national and international activities under the Kyoto protocol to limit climate change in EEA's report "Europe's environment - The Third Assessment", chapter 3: climate change.
Other sources from EEA for more information on heatwaves, floods and droughts:
---
Other sources for information on temperature changes
Several institutions are involved in the monitoring and assessment of temperature change and can supply more detailed information on specific areas.
Current European (UK) heatwave
Permalinks
Permalink to this version

Permalink to latest version