Figure
Exceedance of the critical loads for eutrophication in Europe (as average accumulated exceedances), 2004
Figure
Created 12 Nov 2009
Published 12 Nov 2009
Last modified 26 Aug 2017
This page was
archived
on
26 Aug 2017
with reason:
A new version has been published
How to read the map: for Norway, exceedances of the critical load for nutrient nitrogen are in general not a major problem. Size of grid-cell: 50 km x 50 km.
/data-and-maps/figures/ga-downloads/4642D40C-D4F8-410B-B05E-354DAED02E07/exceedance-of-the-critical-loads-for-eutrophication-in-europe-as-average-accumulated-exceedances-2004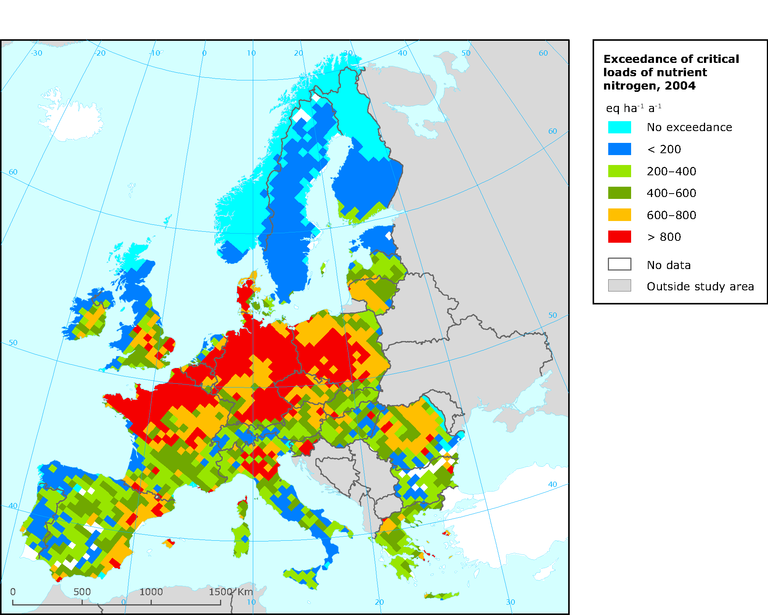 Download
Metadata
Additional information
Exceedances can only be found in southern Norway. For the Northern part of Belgium, the critical load for nutrient nitrogen is exceeded by more than 800 equivalents nitrogen per hectare and year (nitrogen is the sum of airborne nitrate-N and ammonium-N deposited).
Permalinks
Permalink to this version

Permalink to latest version
Geographic coverage
Topics